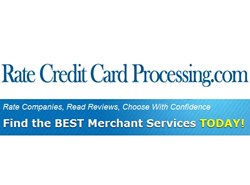 Accepting credit card transactions doesn't need to be so difficult and costly...
Houston, TX (PRWEB) September 17, 2013
The fireworks are certain to fly as, http://www.RateCreditCardProcessing.com has unveiled a unique new review system which allows payment processors the opportunity to respond to upset customer concerns. Companies can now engage consumer complaints with an 'Official Company Response'.
According to Greg Wong, site representative, the new changes will provide their community of business owners shopping for a credit card processing service see quickly which companies are addressing their offering shortfalls, failures and misunderstandings.
"Business owners want to know they are in partnership with their payment processing service, when misunderstandings or problems occur, they have an expert they can turn to in order to resolve the matter quickly, and efficiently," said Mr. Wong. "Our new system allows for complaints to be addressed and in some cases fixed, when the processors customer service system has failed."
Continuing to provide visitors with reviews written by actual customers of various payment acceptance companies, RateCreditCardProcessing.com developed the service comparison engine to be 100% user driven, non-biased and based on real consumer reviews.
"Unfortunately ugly results are too commonly encountered by new businesses that simply want an easy, cost effective company to allow them to accept credit card purchases," added Wong saying. "Allowing processors to address complaints and provide their view on different situations – gives visitors a more comprehensive picture of the services being compared. It's a win-win for both visitors and the companies being reviewed."
To see this new review system in action, visit today: http://www.RateCreditCardProcessing.com
About RateCreditCardProcessing.com
Ratecreditcardprocessing.com believes that accurate research is the best way for businesses to choose a credit card processor, and proper research begins with what actual customers are saying.
That's why all of the company's reviews are submitted by visitors and are ordered solely by customer rating and the company does not accept advertising. To find out at a glance which transaction processors ranking best among consumers, visit today: http://www.ratecreditcardprocessing.com