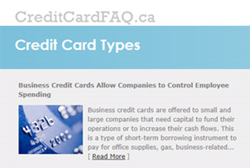 The thought of money brings up feelings of joy, happiness, power, and enthusiasm.
(PRWEB) June 19, 2014
CreditCardFAQ.ca released a new video today (http://www.creditcardfaq.ca/) to offer enlightening quotes about finance, wealth, and the effect money has on life satisfaction, status, quality of life, and relationships.
The new video was created by the web design and content development team at CreditCardFAQ.ca to offer inspiring quotes by famous industrialists, thinkers, artists, writers, and politicians. Money quotes inspire people to change their attitudes toward money, financial freedom, and success. This is the key to good money karma.
"The thought of money can bring up negative emotions and feelings – fear, anger, anxiety, disappointment, bitterness, and hopelessness. It also brings up feelings of joy, happiness, power, and enthusiasm. The new video presents money quotes by famous people to help visitors make emotionally satisfying choices," said John Williams, marketing consultant at CreditCardFAQ.ca.
The famous quotes video offers food for thought and raises questions about the role of money in society and everyday life. The quotes are thought-provoking and inspire us to look beyond conventional wisdom and the things we know about the money universe. Inspirational quotes motivate people to develop healthy spending and borrowing habits that give them a sense of control, safety, and stability. The majority of people have scarce financial resources and some have unrealistic financial, personal, and retirement goals. They choose the wrong advisors and accumulate excessive debt due to counterproductive money habits. Famous quotes offer money knowledge and help people to outgrow poor financial habits and find effective ways to solve their financial worries. The new video by CreditCardFAQ.ca offers insightful quotes that are fun to read and inspire visitors to think of ways to secure their financial futures and minimize strain, stress, and negative emotions. Money quotes also make people think of their money habits and spending patterns and how to unlearn them. Ultimately, the goal is to find a good solution to the money-life balance dilemma.
About CreditCardFAQ.ca: CreditCardFAQ.ca is a website, focused on offering free information on Canadian credit cards.