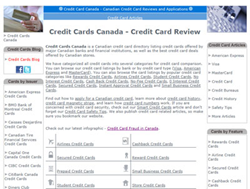 Canadian consumers pay exorbitant prices for airline tickets as there's no real competition in the Canadian airline industry. Our airline credit card guide has been created to help Canadian consumers to save some money on airline tickets
(PRWEB) September 04, 2013
CreditCardReview.ca announced today the publication of an airline credit cards guide (http://www.creditcardreview.ca/creditcard-2-2-1-2-2-2-2-2/) that helps Canadian consumers to save on tickets and air travel.
The new guide was created by the content development team at CreditCardReview.ca and features the top 22 airline credit cards. The guide was developed in response to visitors' requests. It offers in-depth reviews and comparisons of popular products with attractive signup bonuses, travel discounts, valet parking, food vouchers, free room upgrades, and a lot more.
"Canadian consumers pay exorbitant prices for airline tickets as there's no real competition in the Canadian airline industry. Our airline credit card guide has been created to help Canadian consumers to save some money on airline tickets," said John Wilson, marketing consultant at CreditCardReview.ca.
Air travel is expensive because of the lack of competition between carriers. Millions of Canadians flock to U.S. airports each year because they pay up to 50 percent less. Air tickets are expensive because international carriers are not allowed to fly within the country. The policy is anti-competitive, and consumers suffer as a result of this. Canadian travelers are driving hundreds of miles to avoid overpriced local airports. Customer service is another problem. Before about 58 percent of the flights operated by Air Canada were on time. The industry average is 78 percent. While the company has garnered reputation, industry competition is the way to reduce the cost of air travel. Until this happens, using an airline credit card is an alternative that offers substantial savings, generous perks, and travel benefits. Frequent flyer cards feature discounts and attractive rewards payouts. Some cards even let holders to earn bonus points via hundreds of participating hotels, mortgage lenders, drug stores, and shopping centers. The bonus points can be used to book luxury travel, and the savings are considerable. Using a free award ticket is a great way to ease the burden of overpaying.
The new section of CreditCardReview.ca presents in-depth reviews of popular credit cards from MasterCard, Visa, and AMEX that are offered by the major banks and credit unions. Visitors benefit from easy comparisons of features such as annual fees and interest rates.
About CreditCardReview.ca: CreditCardReview.ca is a Canadian credit card directory offering information on the major banks and credit cards in Canada, along with many useful credit card related articles and guides.