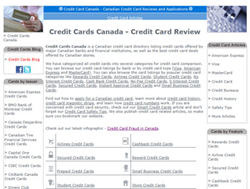 The goal of CreditCardReview.ca has always been empowering Canadian consumers, by giving them the right tools and information so that they can choose a credit card that meets their needs
(PRWEB) January 28, 2014
A new credit card FAQ video (http://www.creditcardreview.ca/) was released today to help visitors to choose the right credit card and rack up rewards.
The video was created by the content and video development team at CreditCardReview.ca to offer answers to some frequently asked questions and help customers to pick a card that best suits their shopping and travel needs. Being a valuable addition to CreditCardReview.ca, which presents in-depth reviews of popular credit cards, the new video offers a lot of information in an engaging way, saving users valuable time and helping them become information-rich and educated customers. The ultimate goal is to make credit card decision making easier.
"The goal of CreditCardReview.ca has always been empowering Canadian consumers, by giving them the right tools and information so that they can choose a credit card that meets their needs. Our new credit card FAQ video will hopefully save many hours of research and substantially improve the credit card shopping experience of our users," said John Williams, marketing consultant at CreditCardReview.ca.
Customers are involved in different financial transactions on a daily basis and even the choice of a credit card requires an educated decision. The new FAQ video presents different types of credit cards that feature perks such as cashback, bonus points and rewards programs, car and travel insurance, and many others.
Today, consumers are faced with important but complex decisions, from managing credit card debt to buying a home and saving for retirement. Credit card literacy affects financial behaviour and helps customers to make good decisions. The problem is that many people use credit cards to fund a lifestyle that is beyond their means and pile excessive debt. It is difficult to balance a large debt load without the skills and knowledge necessary to make educated decisions. Credit cards offer many beneficial features and make shopping easier if used responsibly and within boundaries. Yet, many accounts go into arrears each year, showing that consumers lack basic credit card skills. The new FAQ video is designed to simplify decision making, help customers to pick a credit card that suits their needs, and avoid the debt trap. Given that the financial markets offer a wide array of financial services and products, it is important to gain basic knowledge of finance and credit cards.
About CreditCardReview.ca: CreditCardReview.ca is a Canadian credit card directory offering information on the major banks and credit cards in Canada, along with many useful credit card related articles and guides.