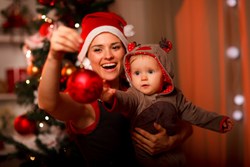 The holiday season is the easiest time to slip into some bad financial habits.
(PRWEB) November 11, 2013
It's no secret that the holiday season is a big deal in America. While most people look forward to spending time with friends and loved ones, there's no denying that the holiday season also signals the busiest time for shoppers. From Black Friday to Cyber Monday, U.S. consumer culture kicks it into another gear during the holidays. So Lexington Law, the nation's leading credit repair firm, decided to investigate just how important holiday presents have become and how much people are willing to spend on them each year.
A survey conducted by Harris Interactive found that more than half (57%) of U.S. adults with children said they would be willing to take on debt in order to make their children happy for the holidays. The September 2013 survey was conducted online among 2,087 adults ages 18 and over.
Not surprisingly, income has a lot to do with how much people are willing to spend on their kids. Those with a household income (HHI) of less than $35,000 are willing to accrue an average of $700 worth of debt in order to make their children happy for the holidays. Interestingly, that number is significantly higher than the average amount of debt those with a HHI of $75,000 or more are willing to accrue ($300) in order to make their children happy for the holidays.
90 percent of U.S. adults plan to buy holiday presents this year. Of that group, 31 percent said they do not have a limit on how much they'll spend this year on those presents. However, 73 percent of women indicated that they do have a limit for how much they'll spend this year, compared to just 64 percent of men who said they have a spending limit.
"The holiday season is the busiest time of year for consumers and these results show that good financial behavior often goes out the window this time of year," said Randy Padawer, vice president of credit repair services at Lexington Law. "Americans place so much emphasis on making sure that every one of their children and loved ones have presents to open during the holidays, but few think about what that means for their overall financial health. The holiday season is the easiest time to slip into some bad financial habits, which can lead to serious damage to your credit."
Additional survey findings:

When asked which was more important this holiday season between buying presents for loved ones, sticking to a budget or not taking on any more credit card debt, 36 percent said that buying presents was most important.
More than half (55%) of U.S. adults have not yet saved any money for this year's holiday season.
One in five of U.S. adults opened a new store credit card last holiday season in order to receive discounts. 5 percent of respondents opened three or more store credit cards last year.
Of U.S. adults who used their credit cards last holiday season, the average amount charged was $1,100.
Survey Methodology
This survey was conducted online within the United States by Harris Interactive on behalf of Lexington Law from September 20-24, 2013, among 2,087 adults ages 18 and older. This online survey is not based on a probability sample and therefore no estimate of theoretical sampling error can be calculated. For complete survey methodology, including weighting variables, please contact James Christopherson of Atomic PR at james.christopherson(at)atomicpr(dot)com.
About Lexington Law
Lexington Law is a consumer advocacy law firm with 21 years of experience helping hundreds of thousands of Americans work to improve their credit. They are among the largest network of credit repair professionals in the U.S., employing a growing staff of 24 attorneys and 200+ paralegals/agents across 19 states. The firm empowers credit success through effective services which leverage consumers' rights to legally resolve issues with credit bureaus and creditors. Lexington works to ensure that its clients' credit reports are a fair and accurate representation of their true creditworthiness. For details about Lexington Law's services, attorneys, or statistics, visit: http://www.lexingtonlaw.com.
About Harris Interactive
Harris Interactive is one of the world's leading market research firms, leveraging research, technology, and business acumen to transform relevant insight into actionable foresight. Known widely for the Harris Poll® and for pioneering innovative research methodologies, Harris offers proprietary solutions in the areas of market and customer insight, corporate brand and reputation strategy, and marketing, advertising, public relations and communications research. Harris possesses expertise in a wide range of industries including health care, technology, public affairs, energy, telecommunications, financial services, insurance, media, retail, restaurant, and consumer package goods. Additionally, Harris has a portfolio of multi-client offerings that complement our custom solutions while maximizing our client's research investment. Serving clients in more than 196 countries and territories through our North American and European offices, Harris specializes in delivering research solutions that help us -- and our clients -- stay ahead of what's next. For more information, please visit http://www.harrisinteractive.com.
Media Contact:
James Christopherson
Atomic PR
james.christopherson(at)atomicpr(dot)com
(415) 963-9803