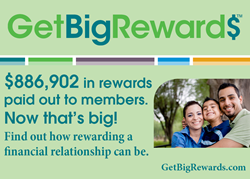 Credit union loan rates are on average 1% lower than bank rates. This potentially could mean big savings when you purchase your dream car.
Farmington Hills, Michigan (PRWEB) March 18, 2014
1) You are a member, not just another customer. Once you open a membership at a credit union, you literally own a piece of the credit union. This means you're respected and viewed as an important stakeholder in future plans. As a member you have the opportunity to nominate board members, vote for board members or run for an open Board of Directors position. By participating in this democratic process, you can help determine the vision and direction of your credit union.
2) Through rewards or dividends, many credit unions reward member loyalty and participation. Wouldn't it be nice to be rewarded by your financial institution? You're in luck if you're a credit union member; many credit unions offer rewards or dividends for your active membership. An example includes Community Choice Credit Union, based in Michigan. This credit union offers up to $108 in annual rewards credits, plus a 10% loan interest rebate. Any credits that are remaining at the end of every year are deposited into member accounts and available for withdrawal. In 2013, Community Choice paid $886,902 in rewards to members.
3) Credit unions have never been bailed out or lost a cent of member money. While big banks received a $700 billion bailout in taxpayer money in 2008, credit unions have never sought a bailout. Because credit unions aren't in the business of making risky investments with customer deposits, credit unions are a much safer place to keep your money. All member deposits are insured up to $250,000 by the NCUSIF.
4) You receive lower interest rates on loans. According to CULinkMichigan.com, credit union loan rates are on average 1% lower than bank rates. This means for every $10,000 you borrow from a credit union, you save $100. Similarly, credit union credit cards average 4% less than bank rates.
5) Credit unions don't have a history of questionable ethics. In 2013 banks paid more than $40 billion in fines and settlements to U.S. authorities. The largest fine was paid by JPMorgan Chase totaling $13 billion dollars. Additionally, many banks charge fees or have high minimum balance requirements to utilize important services like checking accounts. Instead of being motivated by profits, credit unions make decisions in the best interests of their members because of their not-for-profit status.
If you're thinking about making the switch to a credit union you can easily examine your options by using the National Credit Union Administration research tool.
About Community Choice Credit Union:
Established in 1935, Community Choice Credit Union offers a wide variety of financial products and services for both consumers and businesses. Any individual who lives, works, or worships in the following counties is eligible to become a member of Community Choice Credit Union: Genesee, Lapeer, Livingston, Macomb, Oakland, St. Clair, Washtenaw or Wayne County, Michigan. Since 2008, Community Choice has invested more $748,742 dollars and 10,727 volunteer hours into its charitable Give Big efforts throughout Michigan. For more information, visit CommunityChoiceCU.com.