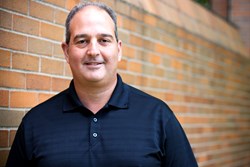 This merger will improve the member experience for ROME members. We look forward to engaging the communities this location serves and to increasingly become the primary financial institution for residents of Southeast Michigan
Farmington Hills, MI (PRWEB) October 01, 2013
ROME Credit Union, located in Royal Oak, announced today that it has merged with Community Choice Credit Union. A large portion of ROME's membership includes select employer groups and city employees of: Royal Oak, Hazel Park, Huntington Woods, Lathrup Village and Beverly Hills. The merger, which affects 2,484 members, will expand Community Choice Credit Union's presence in Southeast Michigan and offers ROME members additional financial services, a member rewards program, and lower rates on many loan products.
"We are excited to welcome ROME members to the Community Choice family," said Robert Bava, President and CEO of Community Choice Credit Union. "This merger will improve the member experience for ROME members and will also provide Community Choice a branch presence in Royal Oak. We look forward to engaging the communities this location serves and to increasingly become the primary financial institution for residents of Southeast Michigan."
Community Choice Credit Union, headquartered in Farmington Hills, has nearly $500 million in assets and more than 50,000 members. The merger will expand the Credit Union's presence to include branches in: Royal Oak, Warren, Livonia, Redford, Farmington Hills, Milford and New Hudson. Any individual who lives, works or worships in Genesee, Lapeer, Livingston, Macomb, Oakland, St. Clair, Washtenaw or Wayne County, Michigan is eligible for membership at Community Choice Credit Union.
Merger comes after launch of innovative member rewards program:
In June, Community Choice Credit Union launched an innovative member rewards program. The new program, called GetBigRewards, provides monthly credits to Emerald and Gold Level members which can be used to offset potential fees. Any remaining credits will be refunded annually and can be used for savings or withdrawn.
News of the Credit Union's rewards program comes at a time when consumers are looking for alternatives to banks. The 2013 World Retail Banking Report, an annual survey of 18,000 global financial institutions, found that 40 percent of banking customers are not sure if they will stay with their bank in the next six months.
In addition to up to $108 in annual credits, the Credit Union's GetBigRewards program also offers members up to a 10 percent annual loan rebate on interest paid on qualified Community Choice loans. The rebate, combined with annual rewards credits, distinguishes the Credit Union's program as being one of the most generous among financial institutions in the United States. Community Choice anticipates the total in credits and rebates to be well over a million dollars annually.
Credit Union distinguishes itself through its "Give Big" culture:
Credit unions have a strong history of supporting community and charitable programs through volunteerism. As not-for-profit organizations, owned by members of local communities, credit unions believe in the philosophy of people helping people. Community Choice Credit Union has taken this philosophy and maximized it by offering 24 hours of paid volunteer time to each full-time employee, a scholarship program, free financial education seminars and special community outreach initiatives.
In September, the Credit Union held its annual Give Big Weekend. The weekend, dedicated to volunteerism in Southeastern Michigan communities, featured more than 400 credit union employees, members, family and friends. Together, this group accomplished the following:

1,105 hours volunteered
12,376 pounds of food packaged and moved
More than $7,233 raised
79 whole blood units donated, saving up to 237 lives
350+ miles traveled at the Detroit Zoo
Give Big Weekend supported the following organizations and causes: Vista Maria Women's Shelter, Gleaners Community Food Bank, Forgotten Harvest food bank, the American Red Cross, Milford Park cleanup, the Community Choice Foundation and the Detroit Zoological Society.
A large portion of the Credit Union's charitable work comes through its non-profit Foundation. The Foundation, with more than $500,000 in scholarships awarded since 2009, seeks to help end Michigan's brain drain. A 2013 article in MLive reported that nearly 40 percent of recent graduates from public Michigan universities have left Michigan.
"Our scholar program was inspired by our President and CEO, Robert Bava's vision to find a way to help end Michigan's brain drain," said Abbey Bierlein, Foundation Coordinator at Community Choice Credit Union. "Recipients of our scholarships pledge to use their education to give back to Michigan communities after graduation. By encouraging students to stay in Michigan, we're doing our part to ensure the great future of our state."
About Community Choice Credit Union: Established in 1935, Community Choice Credit Union offers a wide variety of financial products and services for both consumers and businesses. Any individual who lives, works, or worships in the following counties is eligible to become a member of Community Choice Credit Union: Genesee, Lapeer, Livingston, Macomb, Oakland, St. Clair, Washtenaw or Wayne County, Michigan. Since 2008, the Credit Union has invested more than $750,000 dollars and 9,000 volunteer hours into its charitable Give Big efforts throughout Michigan. For more information, visit CommunityChoiceCU.com.
# # #