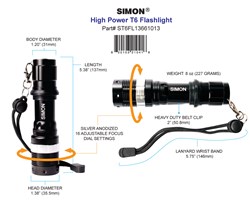 Simon launched the new High Power Flashlight T6 Pro with Cree LED to address military and law enforcement needs for a quality right-weighted and/or mountable flashlight in certain tactical situations.
Orange, CA (PRWEB) July 29, 2013
Simon launched the new High Power LED Flashlight T6 Pro with Cree LED bulb to address military and law enforcement needs for a quality right-weighted and/or mountable flashlight in certain tactical situations. Through careful design and two-phase quality control Simon has achieved a product with many advantages over those currently on the market.
The mini high power flashlight Cree LED bulb emits a maximum of 500 lumens, so bright that it has a blinding effect. This enables the operator effectively to neutralize, disable, and/or disarm actual and potential assailants, thereby preventing dangerous and threatening circumstances from escalating.
The Simon torchlight can be held by hand or mounted on a tactical weapon. Its compactness and ideal weight of eight ounces make you realize that you are carrying something without it bogging you down.
The T6061 aircraft-grade aluminum anodized black body makes for a rugged high power flashlight that is durable and built to last. The unique dial focus ring is anodized silver to visually mark it as a consumer version of its law enforcement model T6 Pro. The dial focus provides a versatile adjustable16 settings. This allows the operator to adjust the beam anywhere in a continuum that goes from tight and concentrated to a broad fan.
Law enforcement officials and military personnel require reliable LED tactical flashlights on an ongoing basis to defuse tense and life-threatening situations such as ambushes or crimes in progress. The luminance must be overwhelmingly bright to gain advantage over the criminals and assailants.
The Simon Mini High Power T6 Pro fits the bill famously. It is also easily attached to most LED tactical standard rail or slide clamp so that both weapon and blinding light can be focused on the perpetrators simultaneously with full control.
This powerhouse Cree flashlight lends itself to recreational uses as well. Hunters immediately recognize its versatility and practicality. For boating enthusiasts the stronger the light the better when they find themselves suddenly stranded at nightfall. And backpackers value the combination of powerful light, compact size, and reasonable weight.
Quality is evident in every aspect of the Simon T6. The Cree LED bulb is a torch rated for 100,000 hours of use with a maximum output of 500 lumens. Its lifespan should be extendable by utilizing the lower settings of the trigger switch when super brightness is not required.
Furthermore, the push button at the back of the flashlight has 5 soft-touch settings of its own. Through repeated toggling you can cycle through steady beams of high, medium, or low intensity, a strobe function, and an automated beacon of SOS in Morse code.
The power of this flashlight is so high that Simon issues warnings with the product. The operator must not be as careless as to shine its full brightness into anyone's eyes or to look directly into the beam. But when used as intended it becomes an invaluable tool.
Simon has high confidence in its new product because of the care behind the design and the diligence behind quality assurance. It is even finished off with a wristband easily adjustable via the squeeze-and-slide mechanism. Users are sure to be pleased with the Simon High Power Flashlight T6 Pro. http://SimonBrands.com