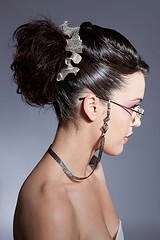 It is so lightweight and really pretty too. Ladies are loving being able mold Creita Eyeglass Holder Necklace into any shape and style they desire to look classy.
San Francisco, CA (PRWEB) September 17, 2013
Nifty-Nifty.com, the leading online retailer of nifty, innovative products, is excited to launch their new hand made product Creita eyeglass holder necklace at Lafayette Art & Wine Festival, CA, on September 21st & 22nd. Ladies have wondered how to carry their reading glasses, sunglasses, and still look trendy - not to mention constantly losing these necessary glasses. Nifty-Nifty.com has the answer - Creita eyeglass holder necklace which is so much prettier than any other way of carrying and misplacing reading glasses and sunglasses. Bring fashion and function together with this pretty accessory - gone are the granny cords and chains. For consumers who cannot make it to the Lafayette Art & Wine Festival, these eyeglass holder necklaces are now available to shoppers in USA and Canada with zero shipping costs and to shoppers in New Zealand, France, Israel, Mexico, Spain, Italy, France, Chili, Brazil and elsewhere internationally - just about anywhere, with a low shipping cost of just $5.00.
"We love innovative, trendy products that revolutionize lives," explained Wendy Miller, co-owner of Nifty-Nifty.com. "We are excited that we are one of the very few online retailers to sell hand made Creita Eyeglass Holder Necklace with zero shipping costs to our Canadian customers. Our Canada shipping program has been so successful we are extending it!"
For more information on the Creita Eyeglass Holder Necklace, go to: http://www.nifty-nifty.com/eyeglass-holder-necklace-by-creita-look-fabulous-and-be-functional-free-shipping/.
About the Creita Eyeglass Holder Necklace
Eyeglass holder necklace by Creita is functional and ever so fabulous. Creita eyeglass holder necklace is prettier than an eyeglass chain and it allows you to be creative. Ladies search for eyeglass holders to wear around the neck and not have the eyeglass holder granny chain look. This eye gotcha eyeglass holder necklace goes around the neck and looks classy.  This eyeglass holder is not an eyeglass holder string, nor is it an eyeglass holder chain and it's not the eyeglass holder as seen on Shark Tank.  Creita eyeglass holder is so much more - these eyeglass holder necklaces are soft and comfortable because they are created from a flexible metal mesh comprised primarily of copper wire and silver coating that has been lacquered. This pliable fabric allows the consumer to create your eyeglass holder into any shape or multiple shapes to suit their mood or look. They are 26" long eye glasses holders with plated silver beads.
About Nifty-Nifty.com
Nifty-Nifty.com is the world's leading online retailer of innovative, nifty products. The company specializes in online retailing of products such as the Readerest, Phubby, Cross Body Cell Phone Purses, Hip Klips, Circles Luxury Cell Phone Wallets and other innovative online products at the best prices with no charge shipping in the USA and Canada.
http://www.Nifty-Nifty.com
Tel. 858-248-2302