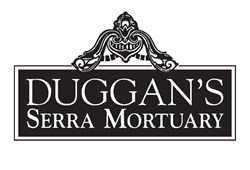 Daly City, CA (PRWEB) October 01, 2013
Duggan's Serra Mortuary has experienced an increase in requests for cremation. Throughout the country, cremation has been an increasingly popular choice for end-of-life planning. In Lowell, MA an article on Lowellsun.com on August 4 outlined the trend, how cremation has become more widely accepted for its affordability. Duggan's Serra Mortuary urges those questioning the choice to cremate to be aware that cremation does not take away the ability to honor and celebrate one's life.
In order to gain a better understanding of the options available, Duggan's Serra Mortuary points to a common scenario. A friend named "Mary", has stated that she is going to be cremated when she dies. She has told her kids, the neighbors, her friends and siblings - everyone. What she hasn't done, however, is discuss the type of funeral services she would like along with her cremation. These services are important in that they allow her friends and family the opportunity to gather and honor her life.
Mary wants a visitation and a funeral service, a celebration of her life. She has already picked out the dress she'd like to be placed in with a pair of pearl earrings and a lovely scarf. Mary has considered a memorial ceremony, in which her cremated remains would be present in an urn alongside photos and personal items, but ultimately has chosen to have a viewing with visitation. She loves the look of dark hardwood and would prefer her cremation casket be of that material (a cremation casket is used for the funeral service first then cremated). Mary has a few special songs she would like played, along with a basket of her favorite flowers, yellow roses, to be put on display next to her casket. Following the service she wants her friends and family to gather at her favorite restaurant to enjoy her favorite foods and drinks in her honor.
When discussing her final wishes, Mary assumes everyone will already know exactly what she wants. Unfortunately, however, they do not. Mary later passes away and is cremated, per her wishes. However, no services are held due to the fact that her family was unaware of the beautiful funeral service Mary had envisioned for herself, along with her cremation.
Duggan's Serra Mortuary, Daly City has a pre-arrangement staff trained to assist in planning final wishes tailored to the client's wishes. There is no obligation. Call Duggan's Serra today for a free personal planning guide, "My Funeral, My Cremation, My Way"® and make sure that all wishes are in writing, planned ahead of time.
About the company:
For over a century, the Duggan family have served San Francisco Bay Area families in their time of need with a sincere, personal touch. Bill, Matt and Dan Duggan and staff take great pride in the personal, family-oriented service. Duggan's Serra Mortuary is located in Daly City and serves Colma, Pacifica, South San Francisco, San Bruno, Millbrae, Burlingame, San Mateo and all the San Francisco Bay Area including the Eastbay and Marin Counties. Duggan's Serra is the closest family-owned funeral home to Colma cemeteries. Visit their website for more information: http://www.duggans-serra-sf.com/.