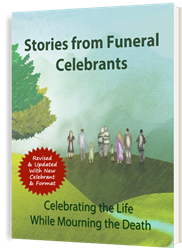 Three Rivers, California (PRWEB) August 29, 2014
In The Light Urns understands the grief families experience following the death of a loved one. In an effort to provide support to those who are dealing with death, the company recently updated its free eBook, "Stories From Funeral Celebrants: Celebrating the Life While Mourning the Death." The new version features an easier-to-read layout, as well as new recently-added content.
"Stories From Funeral Celebrants" contains memorial-related stories from different celebrants to assist families and spouses in the process of celebrating life by creating meaningful end-of-life rituals. This book shows how truly special people can change the loss of a loved one into a celebration of life. New content includes commentary from certified life cycle celebrant, Kateyanne Unullisi, of Emerge Celebrant Services who provides advice about "The Why and How of Working With a Funeral Celebrant."
After experiencing the loss of their own son in 1995, founders Susan and Rick Fraser went on to create In The Light Urns as a way of helping others deal with the loss of a loved one while still celebrating the life that person had lived. Now a leader in its profession, In The Light Urns has pioneered dozens of products to become one of the most unique cremation urn companies today. Often, when asked for some personalized type of urn which was not previously available, the company will develop it because they realize how important it is to the family to be able to associate meaningful life experiences with their loved one's final resting place.
In addition to looking for new ways to offer loving and comforting resting places for loved ones, the company also provides insights and advice about coping with grief and final arrangements. While some families have time to prepare for an upcoming death, others can be surprised by their loss. In either case, it can often be difficult to find the best way to recognize and celebrate the life which has ended.
Founder and CEO Susan Fraser of In The Light Urns commented, "We believe that death can be both a time of mourning and celebration. We hope that this book helps families find just the right way to celebrate the life of someone they have lost."
About In The Light Urns: In The Light Urns of Three Rivers CA is a family owned cremation urn company which has provided custom cremation urns for ashes since 2001. The company offers cremation urns, cremation jewelry, cremation keepsakes, and sympathy gifts, as well as pet urns and pet memorials. Visit the website at http://www.inthelighturns.com or call 800-757-3488 for a personal appointment with a Memorial Specialist.