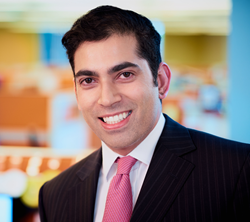 DURHAM, N.C. (PRWEB) June 17, 2020
CREO, Inc. announced today the appointment of Sam Osman to the company's Board of Advisors, effective May 1, 2020. Osman's appointment was announced by Susan Acker-Walsh, co-founder and Managing Partner of CREO, an innovative management consulting and advisory firm based in Durham, NC.
Over the last two decades, Osman has led or invested in a number of businesses within life sciences. Most recently he served as CEO of Cenduit, an eClinical technology firm from 2016 to 2020 with a successful sale to IQVIA in December 2019. Previously with Quintiles, the world's largest Contract Research Organization, he oversaw a number of businesses focused on patient centricity, data collection and safety monitoring including building from scratch the industry's first and largest connected devices, sensors, and wearables hub. He also held business and corporate development roles successfully closing in excess of $1bn in deals with pharma and biotech customers as well as several M&A and licensing transactions.
"We are excited to welcome Sam to our Board of Advisors. Sam brings 15 years of leadership in key areas such as healthcare economics, pharmaceuticals and life sciences, and information technology and services, that are critical to our future operations and strategy," said Susan Acker-Walsh, CREO's CEO. "Sam will bring energy to our board and strengthen CREO's commitment to enhancing mission-critical solutions to better serve our clients, employees, and stakeholders."
Osman says he is excited to join the board of a growing management consulting firm and use his experience to accelerate positive change. "Having experienced firsthand the value that CREO brings to its clients combined with the deep domain experience that Mike and Susan bring, I'm delighted to join the board and help continue the exponential momentum that the team has built over the past few years."
Osman holds a BSc in Economics and Biochemistry from the University of Tampa, an MSc in Economics from the London School of Economics, and an MBA with distinction from Carnegie Mellon University. He was named to the PharmaVoice Top 100 Leaders in Healthcare and the Triangle Business Journal 40 under 40 in 2019, and the Top 25 Entrepreneurs in the State of Pennsylvania.
About CREO, Inc.: CREO is an innovative management consulting firm that shapes growth companies into healthy successful organizations. We provide holistic support for organizations through our expertise in growth management and digital transformation. Our approach creates alignment around vision and strategy with the goal of driving execution and results. To learn more, please visit us at http://www.creoinc.net.