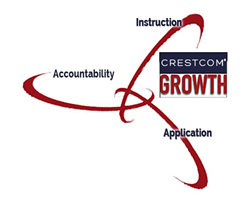 With a 98% customer satisfaction rating,we know that interactive leadership training programs work for organizations.
Greenwood Village, CO (PRWEB) October 02, 2015
Crestcom International, a Colorado-based franchisor, announced today the launch of their new website, http://www.crestcomleadership.com. The new website is another step in the 27-year old brand's growth initiative to bring management leadership training to companies and organizations worldwide.
"Having the right talent is one of the top issues facing companies today. CEOs state that it gets harder and harder to find the right people, and they must ensure their training and retention programs are top notch. Having the right tools to find the right people is part of the challenge. CEOs depend on training to raise the leadership capacities of existing managers for future key roles." says Tammy Berberick, President and CEO of Crestcom. "Leadership training programs, such as Bullet Proof© Manager, help companies with these talent issues."
As the global economy continues to rebound and grow, a major issue for company decision makers is training and retaining top talent. Investing in management and leadership training is an effective way for organizations to retain top talent, as well as greatly increase company productivity.
"Companies that invest in leadership training see a huge return on investment," says Peter Lindsay, Crestcom Director of Training Product. "Not only does it help trainees themselves become better leaders, but they also graduate with the ability to apply those skills to the team they work with, creating a multiplier effect on workplace communications and productivity."
Leadership development trends show that companies are increasingly investing more in leadership training and development. To bridge the leadership skills gap and meet the demands of the next generation of leaders, while also increasing productivity and bottom-line growth, organizations are finding a worthy investment in leadership training.
"Crestcom has been delivering real results to business leaders for almost 30 years. With a 98% customer satisfaction rating for Crestcom's Bullet Proof© Manager training, and clients ranging from large companies such as Coca-Cola and Nike to small businesses and government agencies, the stats show that interactive leadership training programs work for organizations of all types and sizes," concludes Berberick.
Following today's web launch, the Crestcom team will soon be building out and publishing a wealth of leadership training and development tools and resources for managers and business leaders to access via the website.
About Crestcom
Crestcom has trained more than 1 million leaders for 20,000 businesses in 60 countries across the globe. Crestcom does this through a unique blend of video-based, live-facilitated instruction in vital skill areas.
For more information or to schedule an interview, please contact Katie Fritchen at katie(dot)fritchen(at)crestcom(dot)com or +1 303.515.3930.