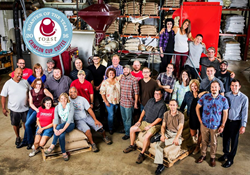 Our motto is 'Coffee + Community,' and I'm thrilled to accept this award on behalf of everyone in the Crimson Cup community. - Greg Ubert
Columbus, Ohio (PRWEB) October 20, 2015
Columbus coffee roaster Crimson Cup Coffee & Tea has taken top honors in Roast magazine's Roaster of the Year competition. Named 2016 Macro Roaster of the Year, Crimson Cup is the first Ohio-based winner in the award's 12-year history.
Roast presents the award annually to North America's top roaster of at least 100,000 pounds of coffee. The magazine's editorial board selects winners that produce coffees of superior quality, exemplify a dedication to sustainability, promote employee and community education, and demonstrate a strong commitment to the coffee industry. Previous winners have included elite national roasters such as Counter Culture Coffee, Stumptown Coffee Roasters and Intelligentsia Coffee.
When the grounds settled in this year's blind cupping, the top place went to Crimson Cup's Wayfarer Blend, Ethiopian Jimma Agaro and Ethiopian Natural Sidamo Ardi. For a limited time, these award-winning coffees are available at the Crimson Cup Coffee Houses in Clintonville and Upper Arlington as well as on the crimsoncup.com website.
Roast Publisher Connie Blomquist said that Crimson Cup's focus on education was a major contributor to its top placement. Judges also considered the roaster's work in cultivating relationships with coffee growers around the world, commitment to supporting local charities and innovation in cold-brew coffee.
Crimson Cup Founder and President Greg Ubert said the award confirmed the company's emphasis on mutually beneficial relationships with coffee growers, independent coffee houses and other partners. "Our motto is 'Coffee + Community,' and I'm thrilled to accept this award on behalf of everyone in the Crimson Cup community," he said.
Since starting Crimson Cup in 1991, Ubert has used the power of education to remain competitive in the fast-paced specialty coffee trade. "Starting out in a single room with a tiny coffee roaster, I was fortunate to learn from more experienced coffee importers and roasters," he recalled. "As we grew, continuing education rose to the forefront of our business model."
The company teaches entrepreneurs to run thriving independent coffee houses through its 7 Steps to Success coffee franchise alternative program. Based on Ubert's Book, Seven Steps to Success: A Common Sense Guide to Succeed in Specialty Coffee, the program has launched hundreds of independent coffee houses in 29 states. A dozen or more new shops open each year.
Increasingly, Crimson Cup also works hand-in-hand with small-plot coffee farmers through its Friend2Farmer direct trade program. "We take several trips a year to make friends and strengthen relationships, give advice on sustainable cultivation and processing, and help fund local schools and other life-enriching projects," Ubert said. The roaster currently works with farmers in Brazil, Costa Rica, Guatemala, Honduras, Mexico and Peru. It also fosters relationships between growers and students at Ohio State University. During service learning trips, students contribute to local educational and health initiatives while learning about smallholder farming practices.
Education and discovery are the driving forces behind the company's new innovation and training laboratory. Slated to open in December, the 7,000-square-foot facility is being built to Specialty Coffee Association of America standards. When complete, it will house a classroom, application lab, cupping lab, roasting lab and employee café. "We envision our new lab as a place where both consumers and professionals can learn about coffee — bean origins, roast level, grind, brewing techniques, drink preparation," Ubert said.
As Ubert looks forward to Crimson Cup's 25th anniversary in 2016, he continues to seek new ways to spread the company's core philosophy, "Leave You Feeling Energized" (L.Y.F.E. for short).
About Crimson Cup Coffee & Tea
Columbus, Ohio coffee roaster Crimson Cup Coffee & Tea is Roast magazine's 2016 Macro Roaster of the Year. Since 1991, Crimson Cup has imported and roasted handcrafted, sustainably sourced specialty coffee. The company also teaches entrepreneurs to run successful coffee houses through its coffee franchise alternative program, which includes a coffee shop business plan. Crimson Cup coffee is available through a community of more than 350 independent coffee houses, grocers, college and universities, restaurants and food service operations across 29 states, Guam and Bangladesh, as well as the company's own Crimson Cup Coffee Houses. To learn more, visit crimsoncup.com.