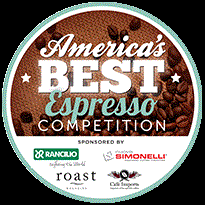 Wayfarer literally means traveler, and we developed this blend through our sourcing trips over the past year. This is one of the most approachable espressos we've created using our current crop coffees. - Greg Ubert
Columbus, OH (PRWEB) February 12, 2014
Crimson Cup Coffee & Tea, an Ohio coffee roaster and coffee franchise alternative, is a finalist in the America's Best Espresso competition at Coffee Fest New York, March 7 to 9. Crimson Cup is one of 28 coffee roasters facing off in a tournament designed to find the country's best espresso roasts and blends.
Crimson Cup entered its new Wayfarer Blend® in the competition. "Wayfarer literally means traveler, and we developed this blend through our sourcing trips over the past year," said Greg Ubert, founder and president. "This is one of the most approachable espressos we've created using our current crop coffees. It offers something for all coffee palates."
Wayfarer is blended from a rotating selection of current-crop varietals. The blend currently includes Heirloom, Mundo Novo, Rubi, Acaia and Yellow Bourbon coffees cultivated at elevations of 1,050 to 1,900 meters. Lightly roasted, Wayfarer Blend melds the syrupy, rich and smooth notes of tree nuts and chocolate with bright accents of exotic fruits. Soft lime acidity highlights notes of plum, wild strawberry, caramel and almond, while a medium body delivers a smooth buttery finish.
Crimson Cup's first appearance in the competition is at 3:20 p.m. Friday, March 7. Coffee Buyer Brandon Bir and Coffee House Barista Bob Cervas will pull shots of Wayfarer Blend® for evaluation by a panel of three judges. Espressos will be evaluated for flavor complexity, mouth feel and appeal, and aftertaste.
This is Crimson Cup's second appearance in the America's Best Espresso championship. In 2013, the roaster's signature Armando's Blend advanced to the second round of competition.
America's Best Espresso Eastern Championship competition takes place March 7 to 9 at Coffee Fest New York, a coffee industry trade show held in Hall 1 A of the Jacob Javits Convention Center, 655 W. 34th Street. The winner of the America's Best Espresso title will be crowned Sunday afternoon.
About Crimson Cup Coffee & Tea
Since 1991, Crimson Cup Coffee & Tea has hand-roasted specialty coffee in Columbus, Ohio and taught independent business owners how to be successful through its coffee shop franchise alternative program. Sustainably sourced Crimson Cup coffee is available through a network of more than 350 independent coffee houses, grocers, college and universities, restaurants and food service operations across 28 states, as well as the company's own Crimson Cup Coffee House in the Columbus suburb of Clintonville. For more information, visit crimsoncup.com.