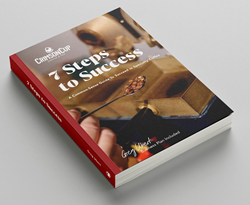 "I needed a coffee partner who would hold my hands and walk me through the process ... Crimson Cup has far exceeded my expectations." - Angie Davis, Owner, Angie's Sugar Buzz Bakery, Sandwich, Illinois
COLUMBUS, Ohio (PRWEB) June 21, 2022
Want to learn how to open a coffee shop in Illinois? Get insider secrets on starting a profitable business in the Prairie State from the coffee shop startup experts at Crimson Cup Coffee & Tea.
Through its 7 Steps to Success coffee shop startup program, Roast magazine's 2016 Macro Roaster of the Year has taught over 300 entrepreneurs in 30 states how to open a coffee shop.
Now, the company's 7 Steps coffee shop startup consulting team has added to its series of state-level coffee shop startup guides with, "How to Start a Coffee Shop in Illinois."
"Illinois is a land of opportunity for many types of small businesses, and coffee shops are no exception," said Crimson Cup Founder and President Greg Ubert. "In fact, Illinois ranks 24th among the states in the number of coffee shops per capita, with fewer than one coffee shop for every 5,979 Illinois residents.
"That leaves a lot of Illinois coffee lovers without a local coffee shop."
He noted that the company supports six independent coffee shops in Illinois cities and towns.
These entrepreneurs learned how to open their shops through Crimson Cup's 7 Steps to Success coffee shop startup program.
The program is based on Ubert's book, Seven Steps to Success: A Common-sense Guide to Succeed to Specialty Coffee, which he wrote initially to help struggling coffee shop customers master all aspects of successful coffee shop operations.
"We help entrepreneurs with little or no coffee experience become owners of thriving coffee shops serving their local communities," he said. "From choosing a terrific location and writing a strong coffee shop business plan to buying and laying out equipment, hiring and training staff and more, our team is here to guide you."
To hear about the book in Ubert's own words, download a free recorded introduction on Soundcloud.
"As a coffee roaster and coffee business consultant, Crimson Cup believes our company only succeeds when our customers do," Ubert said. "As a result, we support coffee shop owners at every step, from concept through opening day and beyond."
At Angie's Sugar Buzz Bakery, Owner Angie Davis aims to serve the best donuts, cakes, muffins, cookies and other baked goods in Sandwich, Illinois. And, of course, the best coffee.
"I always wanted to do a coffee shop like Central Perk from Friends that would bring our local community together over coffee," she said. "There's nothing better than a conversation over a sweet treat and a terrific cup of coffee!"
After years of managing her aunt's gas station, she bought the building at 1004 E. Church Street and transformed it into a bakery café in 2014.
But, while Angie knew baking, she didn't understand specialty coffee. After her first coffee supplier failed to help grow the business, she began looking for a better solution.
"I needed a coffee partner who would hold my hands and walk me through the process," she said.
A referral led her to Crimson Cup. "Carol Laube, my morning baker, connected me to her cousin Penny James, who owns Penny's Perks Coffee House in Dowell, Illinois. Penny highly recommended Crimson Cup," she said.
"I'm very grateful it was not a franchise situation," she added. "Crimson Cup has far exceeded my expectations."
Asked what advice she has for those who are considering opening a coffee shop – or adding coffee to their existing bakery or café – Angie said, "Definitely go with Crimson Cup. Go Big or Go Home!"
She said working with an established company with a proven, pre-built system has made growing her coffee business much easier.
"They help with everything from recipes to equipment maintenance," she said. "Just as important, they develop a close relationship with customers so we can work through any issues over the phone.
"The referral from Carol's cousin Penny was huge because it proved Crimson Cup partners with their customers for the long term," she concluded.
As a one-stop shop for independent coffee shops, Crimson Cup supplies award-winning coffee, the best coffee shop supplies in the business, and ongoing support to help coffee businesses thrive.
Besides the Illinois guide, Crimson Cup recently published guides on How to Start a Coffee Shop in Texas, Ohio, North Carolina, Michigan and Pennsylvania.
About once a week for the next year, the roaster will post a state-level coffee shop startup guides on its website. Next up: a guide on how to start a coffee shop in Georgia.
"Although the fundamentals of coffee shop operation remain the same from state to state, the economic opportunities, business formation and licensing requirements vary widely," Ubert said. "We're excited to share information and resources to help entrepreneurs expedite their startup journey."
He invited anyone who is thinking of opening a coffee shop in any state to call Crimson Cup for guidance.
"If you run into any roadblocks or just want to discuss your vision with a coffee expert, you can reach our startup team by calling 1-888-800-9224."
About Crimson Cup Coffee & Tea
Founded in 1991, Crimson Cup is at the forefront of the coffee industry. Its attentive roasting, startup support and global partnerships are consciously designed for the greater good of communities around the world. Among other national recognitions, the company has earned 2020 and 2017 Good Food Awards, the 2019 Golden Bean Champion for Small Franchise/Chain Roaster and Roast magazine's 2016 Macro Roaster of the Year.
Crimson Cup travels the world searching for the perfect cup – driven by meaningful relationships, honesty and a shared vision for the future. Its Friend2Farmer initiatives foster respect and decency through mutually beneficial collaboration across local and global communities.
Through its 7 Steps to Success coffee shop startup program, the company teaches entrepreneurs how to open and run independent coffee houses in their local communities. By developing a coffee shop business plan, entrepreneurs gain insight into how much it costs to open a coffee shop.
Crimson Cup coffee is available through over 350 independent coffee houses, grocers, college and universities, restaurants and food service operations across 30 states, Guam and Bangladesh. The company also owns several Crimson Cup Coffee Shops and a new CRIMSON retail flagship store. To learn more, visit crimsoncup.com, or follow the company on Facebook and Instagram.