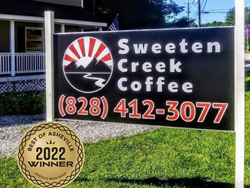 Owner Shirley Wells believes Sweeten Creek Coffee's friendly baristas and relaxing environment contributed to the win. "Customers say that they love our coffee and friendly, personal service!"
Asheville, North Carolina (PRWEB) April 01, 2023
Locally owned Sweeten Creek Coffee has been named the Best Coffee House in Asheville, North Carolina.
In the second annual Best of Asheville contest, Asheville Media Group awarded 472 Gold and Silver Medals in 238 categories. Sweeten Creek Coffee won the Gold Medal for Best Coffee House.
Owner Shirley Wells expressed surprise and delight at winning the award. "I didn't even know we were competing!" she said. "A customer nominated us and encouraged everyone he knew to vote for us."
Wells opened Sweeten Creek Coffee only four years ago after learning how to open a coffee shop from award-winning Ohio coffee roaster Crimson Cup Coffee & Tea.
To get started, the company's coffee shop startup consulting team helped Wells with everything from choosing a winning location, designing her coffee shop and selecting equipment to training Wells and her team to prepare drinks and serve customers.
In addition, Customer Growth Rep Heather Syx continues to work with Wells to solve problems and grow her business.
"Crimson Cup has been a huge part of our success!" Wells said. "Not only do they provide us with great coffee and supplies, but Heather has helped greatly with the cost of goods sold and questions about running our shop."
Wells believes Sweeten Creek Coffee's friendly baristas and relaxing environment contributed to the win. "Customers say that they love our coffee and friendly, personal service!"
Programmable customer "buttons" in Sweeten Creek's point-of-sale system allow baristas to record favorite drink orders for regular customers. As a result, customers enjoy fast, consistent drink preparation and pricing.
"Customers get excited when we ask if they want a button," Wells said. "Because the initial drink price is programmed into their button, they are protected from price increases."
The buttons are so popular that she bought wearable buttons for customers that say, "I Have a Button! Sweeten Creek Coffee, Asheville, NC."
A pet-friendly policy and support for local animal shelters also drive Sweeten Creek's popularity, according to Wells.
"We collect 50 cents for every dog cookie sold, and one hundred percent of the proceeds go to the local no-kill shelter," she said. "We are very dog-friendly and give out free, broken dog biscuits. And belly rubs!"
Wells invites everyone in Western North Carolina's Blue Ridge Mountains to discover why Sweeten Creek Coffee was named the best Asheville coffee shop.
Located at 330 Sweeten Creek Road, the shop serves Crimson Cup's award-winning craft coffee and espresso drinks, nitro cold brew on tap, hot and iced teas, kombucha on tap, Italian sodas and hot chocolate. To complement the drinks, guests can choose from a wide selection of breakfast sandwiches, pastries, lunch sandwiches, pot pies, and quiche.
Sweeten Creek Coffee is open seven days a week. For the latest news, follow the shop's Facebook and Instagram pages.
About Crimson Cup Coffee & Tea
Founded in 1991, Crimson Cup is at the forefront of the coffee industry. Its attentive roasting, startup support and global partnerships are consciously designed for the greater good of communities around the world. Among other national recognitions, the company has earned 2020 and 2017 Good Food Awards, the 2019 Golden Bean Champion for Small Franchise/Chain Roaster and Roast magazine's 2016 Macro Roaster of the Year.
Crimson Cup travels the world searching for the perfect cup – driven by meaningful relationships, honesty and a shared vision for the future. Its Friend2Farmer initiatives foster respect and decency through mutually beneficial collaboration across local and global communities.
Through its 7 Steps to Success coffee shop startup program, the company teaches entrepreneurs how to open and run independent coffee houses in their local communities. By developing a coffee shop business plan, entrepreneurs gain insight into coffee shop startup costs.
Crimson Cup coffee is available through over 350 independent coffee houses, grocers, college and universities, restaurants and food service operations across 30 states, Guam and Bangladesh. The company also owns several Crimson Cup Coffee Shops and a new CRIMSON retail flagship store. To learn more, visit crimsoncup.com, or follow the company on Facebook and Instagram.