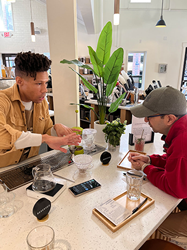 "We developed SIDE BAR to highlight our exclusive coffee offerings, inspire new coffee enthusiasts and expand knowledge for connoisseurs." - CRIMSON Coffeehouse Manager Marcus Cason
COLUMBUS, Ohio (PRWEB) February 11, 2022
Want to up your coffee game? Learn about the countries and farmers behind your favorite beans? Then head over to CRIMSON at Easton Town Center in Columbus for its new SIDE BAR immersive coffee education experience.
"We developed SIDE BAR to highlight our exclusive coffee offerings, inspire new coffee enthusiasts and expand knowledge for connoisseurs," said CRIMSON Coffeehouse Manager Marcus Cason.
"Each SIDE BAR session will guide guests on a farm-to-cup journey through brewing techniques, sampling and coffee education."
SIDE BAR participants will taste award-winning, experimental and limited micro lot coffees while learning new brewing techniques and the stories behind each coffee.
"SIDE BAR highlights the best of our best," said Founder and President Greg Ubert. "Our coffee team has traveled hundreds of thousands of miles around the globe to bring these exceptional coffees to CRIMSON."
Guests can choose one of two options for each 45-minute SIDE BAR experience: the SIDE BAR alone for $25, or the experience plus a 12-ounce box of the featured coffee for $40.
SIDE BAR coffees, dates and times will be announced on the CRIMSON Instagram account on a weekly basis. Follow CRIMSON on Instagram for updates.
To sign up for a SIDE BAR, direct message @crimsoncolumbus on Instagram or email mcason@crimsoncup.com.
About CRIMSON
Located at 1066 Worth Avenue in Easton Town Center, CRIMSON is the retail flagship of award-winning Columbus coffee roaster Crimson Cup Coffee & Tea. Rooted in bringing you closer to your favorite cup, CRIMSON bridges the connection from producer to consumer and highlights the people behind exceptional coffees and drink recipes. For updates, follow @crimsoncolumbus on Instagram.
About Crimson Cup Coffee & Tea
Founded in 1991, Crimson Cup is at the forefront of the coffee industry.
Its attentive roasting, coffee shop startup support and global partnerships are consciously designed for the greater good of communities around the world. Among other national recognitions, the company has earned 2020 and 2017 Good Food Awards, the 2019 Golden Bean Champion for Small Franchise/Chain Roaster and Roast magazine's 2016 Macro Roaster of the Year.
Crimson Cup travels the world searching for the perfect cup – driven by meaningful relationships, honesty and a shared vision for the future. Its Friend2Farmer initiatives foster respect and decency through mutually beneficial collaborations across local and global communities.
Through its 7 Steps to Success coffee shop startup program, the company teaches entrepreneurs to run independent coffee houses in their local communities. By developing a coffee shop business plan, entrepreneurs gain insight into how much it costs to open a coffee shop.
Crimson Cup coffee is available through over 350 independent coffee houses, grocers, college and universities, restaurants and food service operations across 30 states, Guam and Bangladesh. In addition to CRIMSON, the company also owns four Crimson Cup Coffee Houses. To learn more, visit crimsoncup.com, or follow the company on Facebook and Instagram.