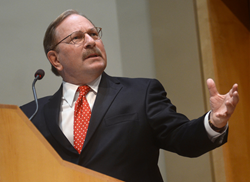 It was deceptive practices, not defective cars, that led to the massive penalty.
Los Angeles, CA (PRWEB) March 26, 2014
The landmark $1.2 billion penalty Toyota Motor Corp. will pay to settle criminal charges centering on the automaker concealing defects in some of its cars is the largest ever imposed against a U.S. automaker. The record penalty, levied last week by the U.S. Justice Department*, was wholly anticipated…but completely avoidable.
That is the assessment of leading crisis management expert Steven Fink, president and CEO of Lexicon Communications Corp. In his most recent book, Crisis Communications: The Definitive Guide to Managing the Message (McGraw-Hill), Fink analyzed the Toyota crisis, pointing out the many mistakes the company made in its bungling of essential crisis communications issues while the crisis raged. "Had the company been more forthcoming with the public it could have avoided this type of stratospheric penalty," said Fink. And because the company concealed defects, according to Attorney General Eric Holder, it is facing a criminal penalty of historic proportions.
"It was deceptive practices, not defective cars, that led to the massive penalty," according to Fink.
"Toyota has been awash in consumer litigation for years, and even settled the lion's share of suits, charging the company in numerous sudden acceleration incidents, many of which led to fatalities," Fink writes in his book. "But it is important to note that this landmark settlement has to do with criminal – not civil – charges, and is largely centered on the deceptive practices the company employed to keep problems from being known by the public," Fink said when the settlement was announced.
In short, in the settlement Toyota admits it misled the public for years about safety defects that caused sudden unintended acceleration, rather than do all that was necessary to fix the problem, according to an assessment of the settlement in a March 19, 2014 article in the Los Angeles Times. "And those deceptive practices were easily avoidable," said Fink. "Honesty in the heat of the crisis would have helped keep the public on its side, especially when one considers the sterling reputation Toyota had enjoyed previously for customer satisfaction."
The author points out a myriad of known safety issues that the company kept largely hidden from view, thereby putting the public at risk. In a chapter called "Toyota: On a Slippery Crisis Communications Slope with No Brakes," the author argues that a crisis communications plan, which the company lacked, contributed to its rapid fall from grace, and that "helped speed the company's slide into late-night punch line lore."
"A disturbing pattern quickly emerged in the Toyota crisis," Fink writes in Crisis Communications. "(E)very time the company issued one crisis communications statement or claimed to have fixed one particular problem, a new difficulty would pop up with another of its models. It seemed that the wheels had completely fallen off the company's crisis communications vehicle, pun intended."
Toyota tried to spin the story that the unintended acceleration problem was new, but as soon as it did, it was revealed that its customers had reported the problem three years earlier, according to details in Fink's book. This type of deception proved most costly, Fink points out, as evidenced by the $1.2 billion settlement.
In a later chapter, simply titled "Telling The Truth," Fink explains that fear is often the leading cause of lying executives – fear of the unknown, of the consequences, of losing their jobs, of so many things. But having a reputation for being a well-managed company that produces high quality products led by straight-talking executives will get a company through tough times without lying. The chapter details a number of companies and executives who would have benefited from truth telling during periods of acute crises, and provides concrete examples of how to be candid in crises.
"Had Toyota's crisis communications plan called for candor and honesty, the automaker may have had fixable problems with its cars, but it would not be looking down the barrel of a $1.2 billion criminal fine," Fink states.
Fink believes that all companies – large or small, publicly traded or privately held – can and should learn from Toyota's missteps. And a comprehensive crisis communications plan, which anticipates crises, is often the first critical step.
Lexicon Communications is the nation's oldest and most experienced crisis management firm, and its president and CEO, Steven Fink, is considered one of the leading crisis management experts in the world. He has written and lectured extensively on the subject and on companies in crisis situations. He also writes often on TheCrisisBlog.tumblr.com.

U.S. v. Toyota Motor Corp, U.S. District Court, Southern District of New York, No. 14-cr-00186.