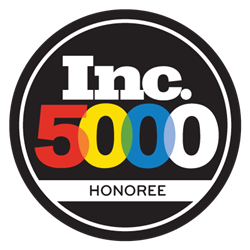 91.49% growth and best-in-class solutions ranks @Critical_EG one of the fastest-growing #datacenter solution providers in the US! #Inc5000 #WhyCEG
GLASSBORO, N.J. (PRWEB) August 13, 2020
Critical Environments Group℠ (CEG), a leading provider of infrastructure optimization solutions for data centers and mission critical facilities, today announced that is has once again been named to the Inc. 5000 list of America's fastest-growing private companies. With three-year sales growth rate of 91.49%, CEG continues to be one of the fastest-growing data center solution providers in the United States.
This is the second time that CEG has appeared in this prestigious business list, and it is another in a growing list of accolades the company has received since its brand identity launch in 2017. In addition to making the Inc. 5000 list in 2018 and 2020, CEG was also selected by US Business News as the 2019 Top Critical Infrastructure Consultancy in the Eastern U.S. The Company was also named to the Philadelphia Business Journal's 2018 Soaring 76 list and NJBiz Magazine's 2018 Fast 50 List.
"It's a great accomplishment to make a reappearance on the Inc. 5000 list," says Michael McClain, Chief Executive Officer of Critical Environments Group. "CEG's success is due to our employees' commitment to excellence, our loyal customers, and the strong support of our investors and strategic partners. The seamlessness of our growth and this Inc. 5000 honor is a testament to the great team we have in place."
The Inc. 5000 list represents a unique look at the most successful privately-owned companies in the United States across all industries and geographic locations. As an Inc. 5000 honoree, CEG shares a pedigree with Intuit, Microsoft, Oracle, and dozens of other companies that are now synonymous with Information Technology.
About Critical Environments Group
Critical Environments Group (CEG) enables its clients to effectively manage, maintain and optimize their data centers and other IT environments. We're meeting the needs of this rapidly evolving industry by achieving value for channel partners or end users throughout the mission critical facility lifecycle. CEG's team of experts is unmatched in its ability to provide intelligent assessments and solutions for achieving readiness, reliability and efficiency today and tomorrow. For more information about CEG and its comprehensive offerings, please visit http://www.criticaleg.com
About Inc. 5000
The Inc. 5000 is an annual list of the fastest-growing private companies in the United States. Started in 1982, this prestigious list has become the hallmark of entrepreneurial success. Ranked according to the percentage revenue growth over a three-year period, companies must be based in the United States and independently held. CLICK HERE to see the full list and Critical Environments Group's corporate profile.