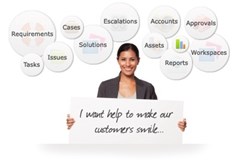 CRMnext Enhances Product to Manage Complex Product Categories.
Delhi (PRWEB) September 27, 2013
CRMnext enhanced its product master management functionality to manage multiple product categories in a structured manner so as to help the sales and customer services team to offer best fitment and customized products and services to the customers. New Categories on the fly and multiple products hierarchies and products can be added to them with all relevant details. Multiple versions of the same product and pricing details for the same can be maintained with an easy to use interface.
The new functionality helps to maintain the product master, categories and hierarchies in a structured manner which can be changed easily as per business needs. Details like categories, sub-categories, units, pricing, related products, discounts, currencies etc. can be maintained. Different variants of the same product can also be maintained. These products can be assigned to sales and services teams depending on multiple criteria. Products can be directly selected from a lead, opportunity, case or a account by the sales and services teams depending on the territory, skills etc.
On the occasion, Dr. Manoj Kumar, product architect, CRMnext said,"The new product master management functionality will help businesses to manage their product offerings in a very convenient manner. The product details, pricing, availability etc. can be controlled in a easy manner despite the complexities of multiple categories, hierarchies and versions. This will help companies to launch new products and make them available to the front end teams faster. "
About CRMnext:
CRMnext is a specialist Customer Relationship Management product company with focus on ultra-scalable installations. CRMnext team has proven track record of delivering High-Impact CRM solutions in their key practice vertical of Financial CRM, Banking CRM, Insurance CRM, Media CRM, Pharma CRM, Telecom CRM etc. Unlike commodity CRM, CRMnext has been widely recognized as a proponent of strategy driven implementations.
CRMnext offers solutions on 'Commutable Cloud'; giving customers the choice to run CRM solutions seamlessly on-premise as well as on cloud.
To know more information about CRM in Banking, visit http://www.crmnext.com/solutions/banking.aspx.