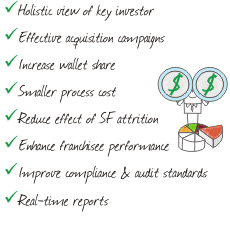 #1 CRM solution in the banking and insurance space helps to boost collections by 30%.
Delhi (PRWEB) September 25, 2013
CRMnext, has been recognized as a market leader in the insurance CRM sector by helping leading life and general insurance companies to boost collections by 30% and renewals by 60%. CRMnext has helped the insurance companies by streamlining processes, improving agent management and providing actionable intelligence on a single platform to the customer facing teams.Its customers include large insurance companies like TATA AIA, Max Life, Reliance Insurance who have benefitted from CRMnext's comprehensive platform for its sales, service and marketing operations.
CRmnext's insurance edition helps to effectively collaborate with intermediaries to get better visibility of sales process. It also helps to provide accurate data on performance of intermediaries and agents on real time basis. CRMnext's service module helps to ensure high first time resolution rates and improve quality of servicing across a multiple stakeholders and systems. Users are able to get a complete 360° view of customers along with their policy holdings, risk profile, premium payments, claims history, to serve the customers better and hence boost renewals. It also enables to offer best fit products as per customer requirement and reduce mis-selling of insurance policies.
On occasion, Dr. Manoj Kumar, Product Architect, CRMnext said, "CRMnext's high impact insurance edition provides real-time insights into processes for actions, with intelligent reports & dashboards. It enables smart allocation of collections between inhouse and outsourced teams depending on the probability of payment by customer based on historical data. This helps to significantly boost collections and renewals."
About CRMnext:
CRMnext is a specialist Customer Relationship Management product company with focus on ultra-scalable installations. CRMnext team has proven track record of delivering High-Impact CRM solutions in their key practice vertical of Financial CRM, Banking CRM, Insurance CRM, Media CRM, Pharma CRM, Telecom CRM etc. Unlike commodity CRM, CRMnext has been widely recognized as a proponent of strategy driven implementations.
To know more information about CRM in Insurance, visit http://www.crmnext.com/solutions/insurance.aspx.