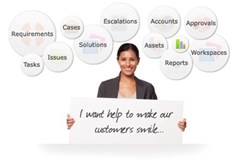 CRMnext Encourages BYOD Policy.
Delhi (PRWEB) October 23, 2013
CRMnext, Asia's # 1 CRM software releases its new mobile platform that allows customer facing teams to access update and interact with customer data using any mobile device. With the new mobile platform, organizations can define advanced security and access preferences depending on the role and permissions of the users. Since data can be accessed from anywhere and anytime, the use of this smart platform makes sales, service and marketing professionals more efficient and effective.
As layouts can be configured to make important information available on fingertips, this will significantly drive user adoption. It works on multiple mobile and tablet platforms including Apple, Android, Windows and Blackberry. Using mobile CRM, accelerating the follow –up process and closing deals within the set deadlines becomes easier as the status of leads and opportunities are readily available. Also, data from incoming text messages can be used to update existing customer records, which enables sales executives to cross sell or upsell the right product at the right time.
"Since everybody uses a mobile device, creating a highly efficient mobile workforce via CRMnext mobile platform is simple yet cost effective. Even when employees are not at their desks, activities like meeting day to day targets, updating customer records, responding to customer queries, etc. can be done successfully with the help of a mobile CRM. All in all, this cutting-edge mobile CRM platform has improved lead conversion rates and helped businesses gain a competitive edge," said Dr. Manoj Kumar, Product Architect, CRMnext.
About CRMnext:
CRMnext is a specialist Customer Relationship Management product company with focus on ultra-scalable installations. CRMnext team has proven track record of delivering High-Impact CRM solutions in their key practice vertical of Financial CRM, Banking CRM, Insurance CRM, Media CRM, Pharma CRM, Telecom CRM etc. Unlike commodity CRM, CRMnext has been widely recognized as a proponent of strategy driven implementations.
Know more about Financial CRM Software Solution by visiting http://www.crmnext.com/solutions/finance.aspx.