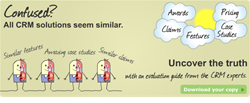 CRM Solution in Asia Introduced Advanced Google Plus Connectors
Delhi (PRWEB) September 14, 2013
CRMnext, #1 CRM solution in Asia with very strong presence in the banking, insurance and financial services sector, announced the launch of advanced Google Plus connectors which will help to pull information from Google Plus into CRMnext based on multiple criteria and keywords and convert them to leads, service requests or use for sentiment analysis and brand management.
The new connector will provide real time availability of all conversations, activities on Google Plus related to a particular brand, customer or a prospect on a single screen. This will enable faster and more effective follow-ups. It will also maintain a history of all the conversations and activities related to the information captured via Google plus. These conversations can be converted to a new sales lead, service request, complaint, solutions etc. on a click of a button. These conversations can also be tagged to an existing customer, contact, leads or cases.
On this occasion, Dr. Manoj Kumar said, "Today, it is very important to manage the social footprint of customers. Google Plus is gaining fast public interest and conversations. CRMnext's new Google plus connectors will further increase ability to manage its customer relationships on social network in addition to Facebook, LinkedIn etc."
About CRMnext:
CRMnext is a specialist Customer Relationship Management product company with focus on ultra-scalable installations. CRMnext team has proven track record of delivering High-Impact CRM solutions; http://www.crmnext.com/solutions.aspx - in their key practice vertical of Financial CRM, Banking CRM, Insurance CRM, Media CRM, Pharma CRM, Telecom CRM etc. Unlike commodity CRM, CRMnext has been widely recognized as a proponent of strategy driven implementations.
CRMnext offers solutions on 'Commutable Cloud'; giving customers the choice to run CRM solutions seamlessly on-premise as well as on cloud.
To know more information about CRM Software, visit http://www.crmnext.com/.