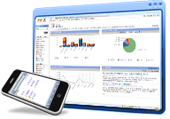 CRM Solution in Asia Introduces Smart Deduplication and Merging Tool
Delhi (PRWEB) September 18, 2013
CRMnext, Asia's #1 CRM solution introduced smart deduplication and merging tool for sales leads captured from multiple sources like, website, call centre, sms, email, chat etc. This will ensure that the same lead is not followed up multiple times irrespective of the channels it is captured from. This will help to increase efficiency of the sales teams and also save the customer from redundant calls.
Two or more leads can be merged together into a single record. This can be done to combine the details of different leads' records with similar information like email, mobile, ID proof etc. and save it under a single name. When the records are merged the relevant information is retained and the duplicate or undesired details are deleted. The default lead can be selected and the remaining ones deleted, this helps removing redundancy of data.
Dr. Manoj kumar said, "The new smart deduplication and merging tool provides organizations facility to run multi-channel campaigns and get accurate analysis on its ROI. It is very important to deduplicate leads and accurately merge them for an effective sales process."
About CRMnext:
CRMnext is a specialist Customer Relationship Management product company with focus on ultra-scalable installations. CRMnext team has proven track record of delivering High-Impact CRM solutions; http://www.crmnext.com/solutions.aspx -in their key practice vertical of Financial CRM, Banking CRM, Insurance CRM, Media CRM, Pharma CRM, Telecom CRM etc. Unlike commodity CRM, CRMnext has been widely recognized as a proponent of strategy driven implementations.
CRMnext offers solutions on 'Commutable Cloud'; giving customers the choice to run CRM solutions seamlessly on-premise as well as on cloud.
To know more information about CRM Software, visit http://www.crmnext.com/.