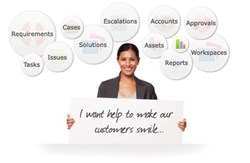 CRMnext Introduces CRM Software to Boost Campaign ROI
Delhi (PRWEB) August 22, 2013
CRMnext, Asia's No. 1 CRM solution launched advanced campaign management functionalities which can help to boost the campaign ROI. Budgets can be defined and apportioned across multi-level and multi-wave campaigns. Expenses can also be tracked for each campaign. Campaigns can be tracked depending on media, channel, geography etc. New campaign toolbox can be used to create status codes for campaigns, budgets. expenses etc. for effective execution.
Managing execution of a campaign is enhanced with status codes and workflow capability. Visibility and approval of campaigns can also be controlled by using status codes. Status Codes are an important part of tracking and monitoring campaign records by enabling effective sorting and filtering based on their progress or time period at a specific stage. Specific status codes can be used as triggers for sharing or updating information with other stakeholders.
"The new enhancements in campaign execution functionalities with status codes and workflow will help to increase effectiveness of campaign planning and execution. Leads, opportunities, contacts and customers can be automatically linked to the campaigns and rolled up in case of multi-level campaigns to accurately track campaign ROI. This will help to understand and focus on successful campaigns and hence the ROI," said Dr. Manoj Kumar, Product Architect, CRMnext.
About CRMnext:
Launched in 2006, CRMnext is a specialist CRM product company. CRMnext has pioneered solutions on 'Commutable Cloud'; giving customers the choice to run CRM solutions on premise as well as on cloud seamlessly. CRMnext, is already a leader in the BFSI space with APAC's largest single platform banking CRM implementation to its credit. CRMnext's customers have the flexibility to run large installations in the manner they want – on premise or on the cloud. After leading in the BFSI space, the company is now making inroads across sectors like pharma, insurance and media. Its customers include global brands like TATA, Reliance, HDFC, Bajaj, Pfizer, Fullerton etc.
For more information about CRM Software; please visit http://www.crmnext.com/ .