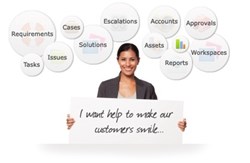 Enterprise CRM Software Introduced Enhanced Attendance and Calendar Management
New Delhi (PRWEB) August 29, 2013
Asia's No. 1 CRM software, CRMnext, introduced advanced attendance and calendar management to enable efficient planning and tracking of sales and service teams across multiple geographies. This will allow to simultaneously capture the 'time-in' and 'time-out' from biometric devices and any other related information like status (absent/ present/ leave), gate-in, gate-out, verification type, etc. for the teams and if needed also integrate with the existing HR information systems.
This system will also help to track the head count of service executives at a particular site. The out-of-box Attendance and calendaring comes with numerous customization options for configuring interfaces, rules and alerts to ensure the CRM software is easy to change and future proof. It can also manage holiday calendars across teams and geographies. The listing section enables users to sieve through records or search for specific ones using displayed filter and sorting options. For example, custom fields can be created to capture employees' device types and serial numbers when they enter the IT hub.
On the occasion, Dr. Manoj Kumar said, "The new 'Attendance' and 'Calendaring' functionalities is especially useful in today's mobile world for efficient management of geographically distributed teams. Also, with dynamic visibility, access to information can be controlled based roles, permissions and also specific validations like ID proof, unique ID numbers, expiry date, address, etc."
About CRMnext:
CRMnext is a specialist Customer Relationship Management product company with focus on ultra-scalable installations. CRMnext team has proven track record of delivering High-Impact CRM solutions in their key practice vertical of Financial CRM, Banking CRM, Insurance CRM, Media CRM, Pharma CRM, Telecom CRM etc. Unlike commodity CRM, CRMnext has been widely recognized as a proponent of strategy driven implementations.
CRMnext offers solutions on 'Commutable Cloud'; giving customers the choice to run CRM solutions seamlessly on-premise as well as on cloud.
To know more about CRM Software, visit http://www.crmnext.com/.