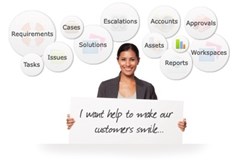 Private Cloud CRM Software Releases Advance HTML5 Mobile Sales Platform
Delhi (PRWEB) December 09, 2013
CRMnext, # 1 private cloud CRM software, releases advance HTML5 mobile sales platform to help sales teams access and update information on the go, thereby boosting their productivity. The smart mobile sales solution, will enable customer-facing teams to access vital sales data in real-time through a unified customer view from anywhere in the world. It will also allow sales reps to capture leads, track appointments, tasks and convert them to potential customers at a faster rate, with the new easy-to-use mobile platform. It will also enable a two-way SMSes capability to capture and update records in real-time for users.
The new mobile sales platform will provide a comprehensive 360-degree view of customers readily available on the go helping to improve sales processes by enriching collaborations and inviting constructive advice to help win opportunities. It will also help in increasing user adoption as this highly customizable mobile sales solution features an intuitive user interface, which will allow sales reps to easily view, create and update data. Also, the smart mobile solution will enable sales teams to hasten the follow-up process as the status of leads and opportunities can be updated from anyplace around the world with any mobile device.
On the occasion, Dr. Manoj Kumar, Product Architect, CRMnext, said, "Maintaining a customer-centric organization is a lot easier with a mobile sales platform. This will help in creating a long lasting relationship with customers, thereby increasing loyalty. Also, with the help of the smart mobile sales solution, customer facing teams can create and run mobile campaigns, which help to increase lead generation and hence, sales."
About CRMnext:
CRMnext is a specialist Customer Relationship Management product company with focus on ultra-scalable installations. CRMnext team has a proven track record of delivering high-impact CRM solutions in their key practice verticals of Financial CRM, Banking CRM, Insurance CRM, Media CRM, Pharma CRM, Telecom CRM, etc. Unlike commodity CRM, CRMnext has been widely recognized as a proponent of strategy driven implementations.
Know more about CRM Software by visiting http://www.crmnext.com/.