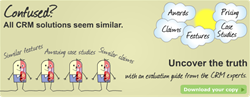 Commutable Cloud CRM Software, Releases Advanced Contract Management Functionality
Delhi (PRWEB) December 17, 2013
CRMnext, #1 commutable cloud CRM software, releases advanced contract management functionality to simplify contract management by facilitating availability of contract details on a single click based on roles and permissions of the users. It will ensure increased user adoption and productivity by enabling teams to easily access all important details pertaining to contracts and entitlements through a single interface.
The advanced contract management software will enable sales representatives to pitch for a potential upsell by displaying actionable intelligence through data mining on a record's interface. This tool will also display all pertinent information ranging from approvals, contacts, activities, collaborations, documents, etc, that is linked to a specific Contract. It will also enable teams to ensure optimal service to customers by escalating overdue tasks or status updates through customized rules based on the service level agreements.
On the occasion, Dr. Manoj Kumar, Product Architect, CRMnext, said, "Having the advanced contract management functionality in place will empower managers to efficiently view the history of changes made to each contract, track collaborations and view all open or closed activities, thus enabling them to take informed decisions."
About CRMnext:
CRMnext is a specialist Customer Relationship Management product company with focus on ultra-scalable installations. CRMnext team has proven track record of delivering High-Impact CRM solutions in their key practice vertical of Financial CRM, Banking CRM, Insurance CRM, Media CRM, Pharma CRM, Telecom CRM etc. Unlike commodity CRM, CRMnext has been widely recognized as a proponent of strategy driven implementations.
Know more about CRM Software by visiting http://www.crmnext.com/.