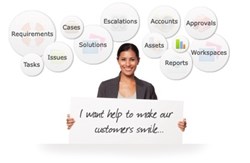 CRM Software in the BFSI Sector, Helps To Reengineer Business Processes
Delhi (PRWEB) November 06, 2013
CRMnext, Asia's # 1 CRM Software in the BFSI sector helps to re-engineer business processes with the help of its advance smart process designer, which has enabled organizations to drive business performance to the next level. It has benefitted large banks and insurance companies by allowing them to radically improve sales and service processes, cut operational costs and improve customer experience across channels.
Reengineering business processes has allowed organizations to effortlessly optimize customer interactions across various channels. It also helps to identify and optimize redundant processes to create new processes, which are more efficient resulting in saving of resources. The new business process designer has also helped better alignment between strategies, people and technology.
"The new smart business process designer can efficiently help an organization to reengineer their business processes end-to-end to develop milestones, objectives and targets, in order to benchmark organizational performance. By using our unique 'What, How and Whom?' approach, processes can be redesigned in the best possible manner to ensure that our customers reap the full value of our high-impact CRM solution. In a nutshell, rethinking business practices can lead to great improvements in competitiveness, productivity, profits, and customer service", said DR Manoj Kumar, Product Architect, CRMnext.
About CRMnext:
CRMnext is a specialist Customer Relationship Management product company with focus on ultra-scalable installations. CRMnext team has proven track record of delivering High-Impact CRM solutions in their key practice vertical of Financial CRM, Banking CRM, Insurance CRM, Media CRM, Pharma CRM, Telecom CRM etc. Unlike commodity CRM, CRMnext has been widely recognized as a proponent of strategy driven implementations.
Know more about CRM Software by Visiting to http://www.crmnext.com/