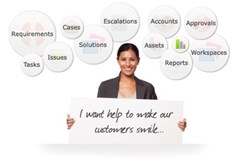 CRMnext, Market Leader in CRM Software
New Delhi (PRWEB) October 09, 2013
CRMnext, a market leader in the global CRM solution space, enhances its call centre management solution, which will assure great customer experience and lasting relationships. It will help to effectively respond to customer queries/inquiries, thereby achieving the desired business results. The new built-in smart soft phone feature guarantees that call centers are mobile enabling customer facing teams to function from any place and any device. Global brands using CRMnext include TATA, Reliance, HDFC, Bajaj etc.
The new cutting-edge solution offers a library full of functionalities like advance caller telephony integration (CTI) integration, do not call (DNC) management, optimal interfaces and Search widgets. CTI integration with a dialer displays a holistic view of customers. The smart DNC management functionality helps to identify, when a customer request is to be added to the DNC list, thus promising less disturbance. The solution has a very user friendly interface to drive user adoption and improve performance. The new widget functionality assures that appropriate security answers are provided by customers before allowing access to create or view information related to existing records.
On the occasion, Dr. Manoj Kumar, Product Architect, CRMnext said, "An organization, which has an effective call center management solution in place, will not only help service agents quickly understand customer issues but also pitch for a possible cross-sell or up-sell opportunity. In a nutshell, the company's entire focus will be on delivering an immediate productive boost with minimal cost and effort".
About CRMnext:
CRMnext is a specialist Customer Relationship Management product company with focus on ultra-scalable installations. CRMnext team has proven track record of delivering High-Impact CRM solutions in their key practice vertical of Financial CRM, Banking CRM, Insurance CRM, Media CRM, Pharma CRM, Telecom CRM etc. Unlike commodity CRM, CRMnext has been widely recognized as a proponent of strategy driven implementations.
To know more information about CRM Software, visit http://www.crmnext.com/.