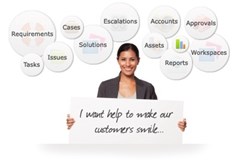 Asia's leading CRM Software, Appears at BFSI Leadership
New Delhi (PRWEB) October 21, 2013
The event was organized by Network 18 Media Investments Limited in association with CNBC TV18 on 25th September 2013 at Trident BKC, Mumbai. The exclusive event had active participation of more than 250 senior professionals from the BFSI sector. The top companies, who made an appearance at the event, were financial institutions, life & general insurance companies, government policy makers and technology providers.
This event is the biggest and the finest thought leadership forum for CXOs and Senior ICT executives which provided interesting and actionable insights. Senior ICT executives presented CXOs with information about the latest global trends using case studies. Detailed discussions were held between CIOs , CEOs and CXOs from large BFSI companies and technology providers. The agenda was to discuss strategies, which will enable organizations to grow and achieve high performance through productivity excellence during challenging times. Importance of emerging technologies like cloud computing, data analytics, etc. were also discussed.
"To ensure a smooth continuity of business in the long-term and simultaneously increase profits organizations should focus on increasing technology capacity and creating advanced business models at low operating costs. This event had a powerful influence on our thought-process with valuable insights from successful IT implementation projects," said Sushil Tyagi, Director, Global sales and Marketing, CRMnext.
About CRMnext:
CRMnext is a specialist Customer Relationship Management product company with focus on ultra-scalable installations. CRMnext team has proven track record of delivering High-Impact CRM solutions in their key practice vertical of Financial CRM, Banking CRM, Insurance CRM, Media CRM, Pharma CRM, Telecom CRM etc. Unlike commodity CRM, CRMnext has been widely recognized as a proponent of strategy driven implementations.
Know more about CRM Software by visiting http://www.crmnext.com/.