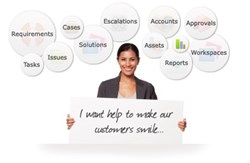 Advanced Automated and Manual Responses for CRM Generated Customer Communications
New Delhi (PRWEB) September 03, 2013
CRMnext's new advanced Auto Response Rules facilitates automatically responding to customer cases with dynamically populated templates which are selected on the basis of the related record's details like customer ID, territory, product, campaign, etc. The template's details can ensure contacts are in-the-loop about the status of their complaint or request thereby reducing call volumes and non-core activities.
The templates incorporated for automated responses ensure consistent communication, company branding and personalized messages can be used as per the organizations requirements when responding to different types of Cases by email/ SMS. A user can manually send a response too from a record's interface and simultaneously create a task for future reference. The auto response rule ensures customers' first impression of your organization's CRM strategy is positive leading to increased customer loyalty.
"Auto Response rules can be created to send specific templates as responses based on multiple criteria for any complaint or service request. These pre-defined responses act as an immediate update from your organization related to a particular customer's case and ensure clear visibility for follow-up action and their status thereby ensuring optimized customer experience." Dr. Manoj Kumar, Product Architect, CRMnext.
About CRMnext:
CRMnext is a specialist Customer Relationship Management product company with focus on ultra-scalable installations. CRMnext team has proven track record of delivering High-Impact CRM solutions in their key practice vertical of Financial CRM, Banking CRM, Insurance CRM, Media CRM, Pharma CRM, Telecom CRM etc. Unlike commodity CRM, CRMnext has been widely recognized as a proponent of strategy driven implementations.
To know more information about CRM Software; Visit http://www.crmnext.com/