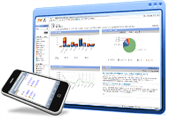 CRMnext Introduces Advanced Web-Integration URLs
Delhi (PRWEB) August 13, 2013
CRMnext introduced new advanced web integration URLs to create customized hyperlinks for CRM users to access external system data and make it available on real time basis on cases for the customer service teams. This real-time integration enables customer service users to quickly access information from external sources and accurately respond to queries or share information helping to increase first time resolution rates.
Web Integration URLs for documents or data residing in another application can be displayed through user interfaces in a few easy steps. These Web Integration URLs can be displayed to relevant users depending on their roles and permissions.
Customer services team members are often bombarded with requests for information that is being regularly updated or hosted outside your CRM software's centralized repository. CRM Toolbox's new advanced 'Manage Web Integration URL' option enables CRMnext users to simply click a custom hyperlink to immediately access all information hosted externally pertaining to a customer's complaint, request or query. This helps to increase effectiveness and efficiency of the customer service team exponentially.
About CRMnext:
CRMnext is a specialist Customer Relationship Management product company with a focus on ultra-scalable installations. The CRMnext team has a proven track record of delivering High-Impact CRM solutions at http://www.crmnext.com/solutions.aspx in their key practice verticals of Banking, Insurance, Media, and Telecom. Unlike 'commodity CRM', CRMnext has been widely recognized as a proponent of strategy driven implementations. CRMnext offers solutions on 'Commutable Cloud,' giving customers the choice to run CRM solutions seamlessly on-premise as well as on cloud.
Subscribe our blog to keep updated at http://feeds.feedburner.com/HighImpactCrmBlog-Crmnext