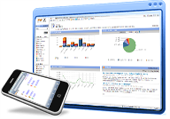 'Best CRM Technology, Asia 2013 Award' by World Finance
London (PRWEB) August 20, 2013
CRMnext, a new generation enterprise customer relationship management product, has won the 'Best CRM Technology, Asia' Award by World Finance in London, a part of World News Media Group. The World Finance awards recognize industry leaders, eminent individuals, exemplary teams and distinguished organizations, which represent the benchmark of achievement and best practice in a variety of fields. Judging panel draws over 230 years of financial journalism experience. These awards are also the only such industry honors given on the basis of voter participation.
"We are very pleased to be recognized by World Finance for our high impact implementations. This award is a testament of resultant business values our customers have gained. It also highlights the increasing demand for a powerful CRM platform which includes strong upgrade, integration and codeless configuration capabilities over individual feature led CRM solutions - http://www.crmnext.com/solutions.aspx," said Sushil Tyagi, Director Sales, CRMnext.
CRMnext also runs the largest single platform banking CRM implementation in Asia with a single instance of 40,000+ users, across 3000+ branches and 1500+ cities & towns. CRMnext has also won a clutch of accolades recently which includes the prestigious Red Herring Asia award, NASSCOM's IP4Biz award and the Gartner's 2013 Sales Force Automation Magic Quadrant.
About World Finance:
The World Finance Awards are a part of the World Finance Magazine, a leading financial publication from the UK. They are presented post a detailed evaluation that the magazine conducts among various banks and banking technology across the globe. More information can be had at: http://www.worldfinance.com/awards/technology-awards-2013/.
About CRMnext:
Launched in 2006, CRMnext is a specialist CRM product company. CRMnext has pioneered solutions on 'Commutable Cloud', giving customers the choice to run CRM solutions on premise as well as on cloud seamlessly. CRMnext, is already a leader in the BFSI space with APAC's largest single platform banking CRM implementation to its credit. CRMnext's customers have the flexibility to run large installations in the manner they want – on premise or on the cloud. After leading in the BFSI space, the company is now making inroads across sectors like pharma, insurance and media. Its customers include global brands like TATA, Reliance, HDFC, Bajaj, Pfizer, Fullerton etc.
Subscribe to our blog to keep updated at http://feeds.feedburner.com/HighImpactCrmBlog-Crmnext/.