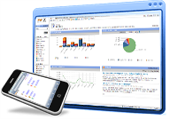 Commutable Cloud CRM Solution, Releases Advanced Customer Telephony Integration (CTI) Functionality
Delhi (PRWEB) December 02, 2013
CRMnext, #1 commutable cloud CRM solution, releases advanced Customer Telephony Integration (CTI) functionality, which will enable organizations to offer context sensitive screen popping, integrated reporting and easy escalations. It will also enable organizations to significantly improve outbound telesales capacity by facilitating call recognition, call routing, call logging and automated call flows within the CRMnext database. It will also help in considerably reducing the call times so that organizations can effectively service larger customer base, thereby cutting costs.
The smart CTI functionality will allow organizations to create search widgets for quicker results and better security for customer information. It will also help organizations to automatically populate contact information for incoming calls. The new CTI integration tool, with its soft phone system will feature outbound predictive dialing, inbound call distribution (ACD) and interactive voice response (IVR) to increase overall productivity. It will also eliminate the need of hopping between multiple systems to re-enter information.
On the occasion Dr Manoj Kumar, Product Architect CRMnext said, "Having the advanced CTI integration functionality will ensure that representatives are under less pressure, since a holistic view of all relevant information is readily available. This will also enable them to provide quicker well-informed responses to customer requests. The smart tool will allow organizations to synchronize customer service efforts with business strategies that focus on customer needs and internal policies."
About CRMnext:
CRMnext is a specialist Customer Relationship Management product company with focus on ultra-scalable installations. CRMnext team has proven track record of delivering High-Impact CRM solutions in their key practice vertical of Financial CRM, Banking CRM, Insurance CRM, Media CRM, Pharma CRM, Telecom CRM etc. Unlike commodity CRM, CRMnext has been widely recognized as a proponent of strategy driven implementations.
Know more about CRM Solution by visiting to http://www.crmnext.com/solutions.aspx.