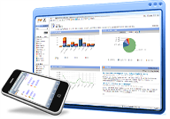 Advanced Escalation Management Functionality On Its Commutable Cloud CRM Platform
Delhi (PRWEB) December 24, 2013
CRMnext releases advanced escalation management functionality on its commutable cloud CRM software platform for service requests and lead management. It will enable customer facing teams to meet their commitments to the customers and build long-term relations with them. It will allow organizations to maintain internal and external SLAs as a best practice to raise alerts in advance for any possible breach of SLAs. The smart escalation management tool will ensure that no lead goes unaddressed, thereby improving sales productivity.
The new escalation management system will empower team members to get timely SMS or emails that help them handle a service request or a lead in an efficient manner. For instance, if a service request is raised by a particular customer, the escalation management software will ensure that the query is solved within the fixed turnaround time by sending emails or SMS alerts to higher authorities involved in the fulfillment process. Similarly, escalations can be sent if a lead is not addressed by the sales team.
On the occasion, DR. Manoj Kumar, Product Architect, CRMnext said, "Providing an enhanced customer experience is important for the long-term sustenance of every organization. The advanced escalation management will boost the productivity of both the sales team and the service team, by ensuring that the query is resolved and the lead is followed up at a faster rate. This will help the organizations to improve the overall customer experience and hence, brand image and loyalty.
Read more: http://www.digitaljournal.com/pr/1511532#ixzz2nzgo0DkY.
About CRMnext:
CRMnext is a specialist Customer Relationship Management product company with focus on ultra-scalable installations. CRMnext team has proven track record of delivering High-Impact CRM solutions in their key practice vertical of Financial CRM, Banking CRM, Insurance CRM, Media CRM, Pharma CRM, Telecom CRM etc. Unlike commodity CRM, CRMnext has been widely recognized as a proponent of strategy driven implementations.
To know more information about CRM Solution; visit http://www.crmnext.com/solutions.aspx.