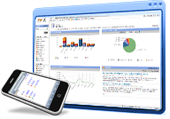 offer CRM Solutions in Banking and Insurance Space
Mumbai (PRWEB) November 07, 2013
3i InfoTech Ltd., a global Information Technology company, announces its partnership with CRMnext, a specialist CRM product company to implement CRM solutions in the banking and insurance space. The Company's Global Delivery Model provides for the best resources to be drawn from its vast talent pool across the globe to offer optimal solutions in BFSI. 3i InfoTech has over 1500 customers in more than 50 countries across 5 continents.
CRMnext is the leading software provider in CRM space in BFSI segment with large global banks and insurance companies as customers. It also has to its credit the largest single platform banking CRM implementation. CRMnext leadership in the BFSI vertical and 3i InfoTech's global delivery model has been a driver for this partnership.
The synergies between the two organizations will further strengthen their leadership in the global BFSI information technology space. 3i InfoTech will also offer implementation and support services for CRMnext in Asia-Pacific, Middle-east, Africa and the Indian sub-continent which accounts for USD 2.5 Billion+ spend on CRM solutions. Going forward this will also be extended to cater the USA and European market.
"CRMnext has a proven track record of high impact implementations at large banks and insurance companies. It has one of the most powerful platform for handling complex business processes, integration needs and UI based configuration which will add significant value to our customers. This will help us to leverage our expertise to deliver transformational CRM solutions focused on measurable outcomes," said Nagaraj GN, Global Head Services, 3i InfoTech Ltd.
"This partnership is a great boost to our expansion strategy in markets outside Indian sub-continent. It will provide us access to the expert global delivery capabilities of 3i InfoTech and its large existing customer base in the BFSI space globally," said Mr. Sushil Tyagi, Director – Global Sales & Marketing, CRMnext.
About 3i InfoTech:
3i InfoTech Ltd. (http://www.3i-infotech.com) is a global Information Technology company committed to Empowering Business Transformation.
A comprehensive set of IP based software solutions (20+), coupled with a wide range of IT services, uniquely positions the company to address the dynamic requirements of a variety of industry verticals, predominantly Banking, Insurance, Capital Markets, Asset & Wealth Management (BFSI). The company also provides solutions for other verticals such as Government, Manufacturing, Retail, Distribution, Telecom and Healthcare. 3i InfoTech has over 1500 customers in more than 50 countries across 5 continents.
Get more information published over http://www.business-standard.com/article/companies/3i-infotech-in-pact-with-crmnext-for-crm-solution-113110600145_1.html.
About CRMnext:
CRMnext is a specialist Customer Relationship Management product company with focus on ultra-scalable installations. CRMnext team has proven track record of delivering High-Impact CRM solutions in their key practice vertical of Financial CRM, Banking CRM, Insurance CRM, Media CRM, Pharma CRM, Telecom CRM etc. Unlike commodity CRM, CRMnext has been widely recognized as a proponent of strategy driven implementations.
Know more about CRM Solution by visiting http://www.crmnext.com/solutions.aspx.