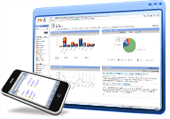 CRM Solution in the BFSI Sector
New Delhi (PRWEB) November 12, 2013
CRMnext, leading provider of CRM solutions in the banking and insurance sector, releases an advance document management module, which will enable organizations to effectively store documents and allow access through a secured login. The advanced system will enable organizations to effectively store data and allow users access through a secured login. The advanced system with its state-of-the-art features will help businesses to conveniently manage documents and collaterals across various departments, making them easily and securely accessible anytime, anywhere.
The enhanced document management system enables users to easily add documents as attachments directly to records or upload them to the DMS for accessing in the future. Since documents can be sorted, filtered and searched through a single interface, the new document management solution ensures clear visibility. It also allows setting permissions on access to enable sharing the documents with particular users or a group. It also enables providing links to documents stored in an external system and make them available in CRMnext for ready access. With its easy to use interface, the smart document management system solution guarantees increased end-user adoption and productivity.
On the occasion, Dr Manoj Kumar, Product Architect, CRMnext, said, "The new document management system solution drives significant cost savings across large banks and insurance companies as it effortlessly replaces movement of physical documents and processes with electronic management. Also, the document management solution can be used to secure important information by creating user level access rules. This will enable easy and secured sharing of information thereby increasing productivity and effectiveness of the organization."
About CRMnext:
CRMnext is a specialist Customer Relationship Management product company with focus on ultra-scalable installations. CRMnext team has proven track record of delivering High-Impact CRM solutions in their key practice vertical of Financial CRM, Banking CRM, Insurance CRM, Media CRM, Pharma CRM, Telecom CRM etc. Unlike commodity CRM, CRMnext has been widely recognized as a proponent of strategy driven implementations.
Know more about CRM Solution by visiting http://www.crmnext.com/solutions.aspx.