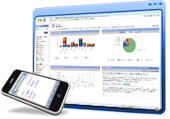 CRM Solution Releases New Dynamic Enterprise Dashboards
Delhi (PRWEB) November 28, 2013
CRMnext, Asia's # 1 Financial CRM solution announced the release of its dynamic enterprise dashboards, which will enable organizations to have a comprehensive overview of their business performance in real-time. It will allow businesses to stay ahead of its competitors by giving the top management real-time visibility of trends and performance of sales, marketing, customer service etc. The new dynamic dashboards will also provide managers and executives with real-time visibility on key metrics to help them focus and improve their performance.
With the help of the new dashboard, organizations can create drill down, multi-dimensional charts. Also, based on the organizations requirement, it can either select out-of-the box dashboards or easily create custom dashboards on the fly. As information pertaining to pipeline activity, sales effectiveness, customer analysis, competition analysis is available, it helps companies to improve efficiency, measure performance and execute its business strategy effectively.
On the Occasion, Dr Manoj Kumar, Product Architect, CRMnext said, "The dynamic enterprise dashboard provides top level managers with necessary insights they need to make fact-based decisions. The advanced set of features readily available in the new dynamic dashboard will help businesses to manage their performance very closely."
About CRMnext:
CRMnext is a specialist Customer Relationship Management product company with focus on ultra-scalable installations. CRMnext team has proven track record of delivering High-Impact CRM solutions in their key practice vertical of Financial CRM, Banking CRM, Insurance CRM, Media CRM, Pharma CRM, Telecom CRM etc. Unlike commodity CRM, CRMnext has been widely recognized as a proponent of strategy driven implementations.
Know more about CRM Solution by visiting http://www.crmnext.com/solutions.aspx.