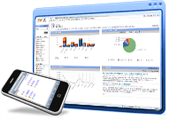 Advanced Template Management Functionality to Standardize Customer Communication
Delhi (PRWEB) November 29, 2013
CRMnext, Asia's # 1 CRM solution, releases advanced template management functionality to help organizations standardize communication with the customers. It will also allow businesses to maintain a uniform and consistent internal/ external communication across teams and territories. The new tool will ensure that managers and end-users have access to readymade templates, which can be easily manipulated to suit their needs, thereby saving time.
The smart template management functionality will significantly simplify the generation of rich templates for sms and emails which can also be modified on the fly. These template are available in multiple formats including test, html, pdf etc. It will also facilitate non-designers to create great looking business documents, emails, etc as images and other important details can be easily inserted in a template.
On the occasion, Dr Manoj Kumar, Product Architect, CRMnext said, "Having advanced template management functionality in place, will allow an organization to project a more professional image since there is standardization of information shared internally as well as with the customers. Moreover, setting up and accessing pre-made templates is one of the most effective and efficient way to save time and effort."
About CRMnext:
CRMnext is a specialist Customer Relationship Management product company with focus on ultra-scalable installations. CRMnext team has proven track record of delivering High-Impact CRM solutions in their key practice vertical of Financial CRM, Banking CRM, Insurance CRM, Media CRM, Pharma CRM, Telecom CRM etc. Unlike commodity CRM, CRMnext has been widely recognized as a proponent of strategy driven implementations.
Know more about CRM Solution by visiting to http://www.crmnext.com/solutions.aspx.