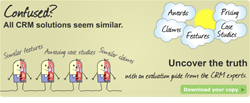 Delhi (PRWEB) November 30, 2013
CRMnext, leader in private cloud CRM, releases advanced version of "Pulse", an online collaboration platform for internal users and customers, which will enable organizations to seamlessly share information and address customer queries, complaints and requests on the fly. It will also enable the sales and service teams to leverage knowledge, experiences and contacts of other team members to improve their efficiency. Customers will be able to interact with the service representatives of the organization on any mobile platform very conveniently using Pulse.
The new collaboration tool will facilitate instant interactions and easy sharing of posts, links and files with internal users and customers, thereby ensuring that they stay in-the-loop about new developments. It will also enhance user adoption as important details like colleagues' opinions and comments, customer related issues, and feedbacks will be available on a single-user interface. Also, the enhanced Pulse tool, will allow permitted users to create public and private groups to discuss business strategies and derive valuable insights from representatives belonging to different departments.
On the occasion, Dr. Manoj Kumar, Product Architect, CRMnext said, "The advanced collaboration platform-'Pulse' will enable customers and users to interact with their team members across geographies and roles. Also, it will ensure that customers, managers, and end-users stay informed with real time information which can be updated in the status section, thereby letting them know what users are working on with their colleagues."
About CRMnext
CRMnext is a specialist Customer Relationship Management product company with focus on ultra-scalable installations. CRMnext team has proven track record of delivering High-Impact CRM solutions in their key practice vertical of Financial CRM, Banking CRM, Insurance CRM, Media CRM, Pharma CRM, Telecom CRM etc. Unlike commodity CRM, CRMnext has been widely recognized as a proponent of strategy driven implementations.
Know more about CRM Solution by visiting http://www.crmnext.com/solutions.aspx.