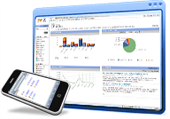 No. 1 CRM Solution Launches Advance Wealth Management Solution
New Delhi (PRWEB) October 02, 2013
CRMnext, Asia #1 CRM solution in the financial services industry, announces the launch of its advance wealth solution for wealth management companies to help them maximize customer lifecycle value by providing optimized solutions as per customer needs and. It helps to track portfolios, recommendations, risk management, compliance and interaction history with the customers thus helping them to deliver great customer experience.
The new advance solution will focus towards improving the quality of interaction, service, and recommendations provided to the clients depending on their needs. It will help to assess the profile, risk and goals of the clients to enable relationship managers and analysts to provide the most relevant investment ideas. It will also enable to keep a track of legal agreements and compliances as per regulatory body to mitigate any risks arising due to non-compliance. The new CRM solution for the wealth management industry will have functionality like portfolio management, risk management, customer service management, marketing management, document management, knowledge management and real time integration with stock market quotes from various service providers.
On the occasion, Dr. Manoj Kumar, Product Architect, CRMnext said, "A powerful CRM platform is very critical in wealth management industry where transparency and compliance in dealings drive the business. The new advance solution will help to understand the customer's financial needs better, keep a track of their portfolio helping in increasing customer loyalty and experience."
About CRMnext:
CRMnext is a specialist Customer Relationship Management product company with focus on ultra-scalable installations. CRMnext team has proven track record of delivering High-Impact CRM solutions in their key practice vertical of Financial CRM, Banking CRM, Insurance CRM, Media CRM, Pharma CRM, Telecom CRM etc. Unlike commodity CRM, CRMnext has been widely recognized as a proponent of strategy driven implementations.
To know more information about CRM Solution; Visit http://www.crmnext.com/solutions.aspx