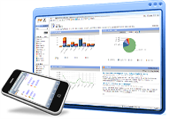 CRMnext, the Market Leader in BFSI CRM Solution
New Delhi (PRWEB) October 08, 2013
CRMnext, the Market Leader in BFSI CRM Solution introduces Its next generation smart SLA management functionality to help customer service and sales teams meet their commitments to the customers. The new SLA management capability will alert all stakeholders involved in handling a service request, complaint or query on timely basis via sms or emails to help them meet the turnaround times promised to the customers. This will help the organizations to improve the overall customer experience and hence, brand image and loyalty.
Organizations can maintain internal and external SLAs as a best practice to raise alerts in advance for any possible breach of SLAs. Multiple SLAs can be configured depending on the type of service request, complaint, query, customer segment etc. Escalation rules can be created accordingly to alert the various stakeholders involved in the fulfillment process. These can also be used for managing sales leads and opportunities.
On the occasion, Dr. Manoj Kumar, Product Architect, CRMnext said, "Today when there is limited opportunity for product differentiation, organizations are looking towards creating a great customer experience as a sustainable differentiator. The advance SLA management functionality will help them to deliver on their promise on time and everytime."
About CRMnext:
CRMnext is a specialist Customer Relationship Management product company with focus on ultra-scalable installations. CRMnext team has proven track record of delivering High-Impact CRM solutions in their key practice vertical of Financial CRM, Banking CRM, Insurance CRM, Media CRM, Pharma CRM, Telecom CRM etc. Unlike commodity CRM, CRMnext has been widely recognized as a proponent of strategy driven implementations.
To know more information about CRM Solution; Visit http://www.crmnext.com/solutions.aspx