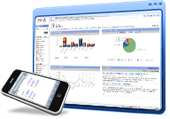 Market Leader in CRM Solutions, Expands Its Engagement Service
New Delhi (PRWEB) October 25, 2013
CRMnext, # 1 provider of CRM software in the BFSI sector, announces the opening of its new office in Mumbai to serve the growing demand from banking and isector. Founded in 2002 in India, CRMnext is a specialist CRM product company with a proven track record of delivering high-impact implementations. Its customers include large enterprises and thought leaders across verticals like HDFC Bank, TATA AIA, Fullerton, Bajaj Finance, Reliance, CRISIL and many more.
With increasing demand and new implementations at large enterprises in South Asia, Indian sub-continent, Middle-east and Africa, expanding the existing engagement center in Mumbai was important. The new facility provides employees with great work environment needed to execute the demanding projects. With the new facility, CRMnext will almost double its engagement services, quality assurance and support team strength. The new facility has multiple conference rooms with advance collaboration capabilities, ergonomic chairs, recreation and refreshment areas to help boost productivity.
"Our aim was to expand and provide a state of the art working environment to the employees, which we believe, would lead to enhanced productivity and efficiency. The new office will help us efficiently cater the increasing market momentum in the CRM space," said, Mr. Sushil Tyagi, Director, Global Sales and Marketing, CRMnext.
About CRMnext:
CRMnext is a specialist Customer Relationship Management product company with focus on ultra-scalable installations. CRMnext team has proven track record of delivering High-Impact CRM solutions in their key practice vertical of Financial CRM, Banking CRM, Insurance CRM, Media CRM, Pharma CRM, Telecom CRM etc. Unlike commodity CRM, CRMnext has been widely recognized as a proponent of strategy driven implementations.
Know more about CRM Solution by visiting to http://www.crmnext.com/solutions/finance.aspx.