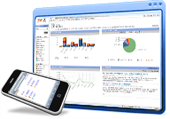 Asia's #1 Banking CRM Solution, Helps to Revolutionize Sales Force Productivity
New Delhi (PRWEB) October 29, 2013
CRMnext, market leader in banking CRM solution helps to revolutionize sales force productivity by enabling the quick and easy access to leads, opportunities, offers, product information and customer information from various sources on a single screen to the sales team on mobile devices helping them to close deals faster. Sales representatives can easily monitor performance, compare their activities with other team members and focus on sales that will create more value with the built-in analytics functionality. The 360-Degree views that are available in CRMnext, gives a detailed picture of customer needs, tastes and buying habits. Sales representative can develop a effective sales pitch based on this information.
Top banks, insurance and financial services companies including big brands like TATA, HDFC, Reliance, CRISIL, Bajaj etc. are using CRMnext to manage their sales process. Sales managers can focus on productivity as critical parameters to sustain peak performance can be accurately monitored with the help of CRMnext. Since organizations have a clear and accurate view of their sales pipeline, forecasts and products it helps them in better planning and execution.
On the occasion, Dr. Manoj Kumar, Product Architect, CRMnext said, "Using a high impact CRM software not only automates but also streamlines the entire sales process. The chances of not closing a deal within the given time period is minimal as the software sends continuous alerts incase sales reps fail to track and follow through on sales leads. The software also enhances communication between the sales force and sales managers as all information pertaining to sales that are currently in progress can be shared across team members very conveniently".
About CRMnext:
CRMnext is a specialist Customer Relationship Management product company with focus on ultra-scalable installations. CRMnext team has proven track record of delivering High-Impact CRM solutions in their key practice vertical of Financial CRM, Banking CRM, Insurance CRM, Media CRM, Pharma CRM, Telecom CRM etc. Unlike commodity CRM, CRMnext has been widely recognized as a proponent of strategy driven implementations.
Know more about CRM Solution by Visiting to http://www.crmnext.com/solutions.aspx