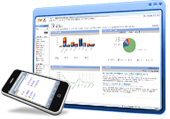 CRM Solution in BFSI Segment Launches Advance DNC Configurations Functionality
Delhi (PRWEB) September 11, 2013
CRMnext, leading CRM solution - http://www.crmnext.com/solutions.aspx - in the banking, insurance and financial services sector, launched advance Do-Not-Call configuration capability to 'Do Not Call (DNC)/ Do Not Disturb' status to meet regulatory requirements while contacting a customer or a prospect. This will help companies to easily comply with the new DNC regulations and also understand the preferred channel and time to contact a customer or a prospect.
DNC functionality can be made applicable for emails, SMS and phones using default time period options for each or a customizable number of days to match a particular organizational requirement. Configuring DNC rules ensures Leads and Customers do not receive any messages and correspondence for a specific time period, after they are assigned the 'DNC' status. Typically, their contact details will not be visible to Users for the period of time they are on a DNC list: this is configured through the 'Mask Format Expression' and 'Mask Character' options for related fields.
Dr. Manoj Kumar said, "The new advance DNC configuration functionality will enable organizations to effectively meet regulatory requirements as well as customer preferences for contacting them. Customers are increasingly becoming sensitive towards being contacted by companies. Effective implementation of DNC also helps to save costs by not contacting uninterested customers and also helps to maintain a brand value by valuing a customer's preference."
About CRMnext:
CRMnext is a specialist Customer Relationship Management product company with focus on ultra-scalable installations. CRMnext team has proven track record in delivering High-Impact CRM solutions in their key practice vertical of Financial CRM, Banking CRM, Insurance CRM, Media CRM, Pharma CRM, Telecom CRM etc. Unlike commodity CRM, CRMnext has been widely recognized as a proponent of strategy driven implementations.
To know more information about CRM Software, visit http://www.crmnext.com/.