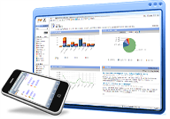 CRM Solutions in the BFSI Space
Delhi (PRWEB) September 20, 2013
CRMnext, #1 CRM solutions company in Asia has announced big wins in the banking, insurance and financial services space in last six months. These multi-million dollar wins has made CRMnext the most preferred CRM solution in the banking, financial services and Insurance space. It has won mandates from the thought leaders in the BFSI space which includes HDFC Bank, Max Life, TATA AIA, Bajaj Finance, Fullerton, India Infoline, Reliance Capital and many more. Jointly these implementations would count for over 1,00,000 users.
CRMnext helps to create a smart, unified view of customers and identify cross-sell opportunities. It assists workforce in achieving higher targets, reduce non-core workloads, minimize coordination efforts and provide actionable intelligence. A single window is available to the customer facing teams to view end-to-end processes that spans across systems and enforce TAT/SLA adherence. It also helps to converge multiple, disjoint, independent campaigns across products, while providing visibility across channels.
On the occasion, Mr. Sushil Tyagi, CRMnext said, "CRMnext platform provides strong capabilities in terms of scalability, flexibility and integrations with the core and LOB systems which is very critical in a high volume BFSI technology environment. It provides real-time insights into processes with intelligent reports & dashboards for pro-active actions which is very critical in today's competitive market."
About CRMnext:
CRMnext is a specialist Customer Relationship Management product company with focus on ultra-scalable installations. CRMnext team has proven track record of delivering High-Impact CRM solutions; http://www.crmnext.com/solutions.aspx - in their key practice vertical of Financial CRM, Banking CRM, Insurance CRM, Media CRM, Pharma CRM, Telecom CRM etc. Unlike commodity CRM, CRMnext has been widely recognized as a proponent of strategy driven implementations.
To know more information about CRM Software, visit http://www.crmnext.com/.