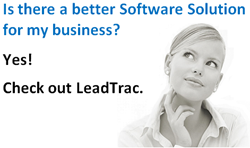 LeadTrac CRM, ServiceTrac & FlexNote are providing businesses with secure, flexible, dynamic cloud computing technology solutions.
Tustin, CA (PRWEB) November 20, 2013
National Data Systems, LLC (NDS), a leading provider of enterprise level CRM and other cloud-based software solutions, has recently completed a significant hardware and infrastructure upgrade.
The upgrades include the addition of a virtualization stack running on powerful Dell servers to support increased scalability and redundancy. The network layer has also been enhanced with additional technology from Cisco and Force10 Networks. "We are excited by the increased interest in our suite of products," says Ken Bailey, Managing Member at National Data Systems, "This series of upgrades demonstrates our commitment to existing customers and allows us to maintain feature-rich, highly available solutions as we continue to grow."
NDS has developed a dynamic platform for solving a variety of business problems, including lead management, client acquisition, case management, document storage, calendaring, financial and trust accounting, and client communication tools via email, voice, SMS and web-based client portals. The NDS product line includes ServiceTrac™, LeadTrac™ and FlexNote®. These products are used extensively by law firms, financial service firms and other professionals that provide professional services for both B2B and B2C offerings. NDS specializes in enterprise technology solutions offers these services at an affordable price.
The NDS Software-as-a-Service (SAAS) offering allows for web-based data management solutions with enterprise level security, reliability and redundancy. Customers are able to leverage NDS' investment in hardware and technology without the usual expense of such items. A single license fee relieves them of the burden of extensive hardware and software investment, allowing a business to focus on their core competency. National Data Systems also provides technology services to other markets including real estate, education, healthcare, legal networks, financial services companies and others.
About National Data Systems, LLC:
Since 2006, National Data Systems has been developing, licensing and supporting web-based software that helps companies efficiently manage leads, clients, documents, appointments, notes, activity logs, reports, business processes and more. National Data Systems cloud-based CRM (LeadTrac™) financial transaction management (ServiceTrac™) and messaging software (FlexNote®) solutions offer significant flexibility, enabling organizations to have a tailored system to meet the needs of various departments and roles. LeadTrac Video - http://youtu.be/Mu1HXBJmS2M