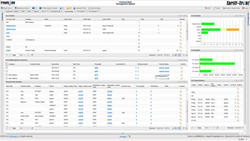 Fountain Valley, California (PRWEB) January 29, 2015
Freightgate, a global provider of Best in Class Logistics Cloud Solutions, announced today it has successfully deployed new CRM Dashboard capabilities in the Freightgate Universe Logistics Management Cloud Platform. Now, customers can capture vital information about their prospects and customers; and get dynamic Dashboard analysis with charts and reports to better drive their sales processes. Detailed visibility allowing all parties to collaborate simultaneously together, share information in real-time, immediately execute and optimize orders for efficient transportation spend management, shipment routing, and on-time delivery.
Some of the many features of the new CRM Dashboard include:

Integrated Activity Logs to plan and optimize orders
Sales Pipeline Management to monitor key metrics
Dynamic Aggregation by Account/User/Month
Embedded read receipts for Shipping Quote Tracking
Cloud Technology for real-time information sharing
"While we can also integrate into existing CRM Infrastructure (like NetSuite CRM or even Goldmine) we feel the integrated solution helps our customers with the focus on Logistics and embedded tracking of quote status, including our unique QuoteAcceptance Center to document NRA acceptance for compliance with FMC requirements." states Martin Hubert, "It is the perfect extension to the Rate Management Solution, further accelerating the Zero to Quote in seconds capabilities".
Freightgate's Logistics Cloud Platform, known as the Freightgate Universe, enables solutions empowering professionals on all levels to collaborate with global vendors and logistics providers seamlessly on a single common transportation sourcing platform for informed decision-making across the entire network. It encompasses ISO9001:2008-certified end-to-end transportation management processes from procurement, rate management, optimization, execution and visibility, carbon footprint, through invoice audit & pay. The Freightgate Universe is comprised of adaptive easy-to-deploy modules to help companies leapfrog into the 21st century with minimal start-up cost. Freightgate is the only commercial EFM compliant platform enabling standardized web-services as promoted by the US-DOT and Transport-Canada.
Partner with Freightgate. To schedule a No-Obligation Demonstration of Freightgate Logistics Cloud Solutions, please complete form at: http://www.freightgate.com/demo or Call Freightgate Sales at (714) 799-2833.
Please Visit / Like our Facebook page: https://www.facebook.com/freightgate
About Freightgate
Based in Fountain Valley, California, the Freightgate team has been developing Internet solutions for the freight and logistics since 1994, such as its industry-leading Logistics Cloud Platform, offering Supply Chain Collaboration & Visibility; TMS, Global Tender Bid Management; Least Cost Routing, Service Contract and Quote Management; Regulatory Compliance CBP and FMC; Automated eInvoice Audit and Payment; innovative What-If-Scenario Analysis tool; interactive online Sailing Schedule. Freightgate is ISO 9001:2008 certified. Visit Freightgate at: http://www.freightgate.com.